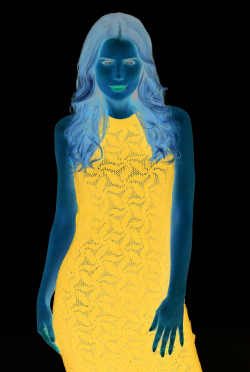 Sofia Mattsson stars in "General Hospital"
The Bold and the Beautiful
Steffy takes Thomas to task and rages about all the damage he's done to her, Liam, Hope, Beth and Kelly. Ridge suddenly finds himself holding Thomas and Flo's futures in his hands. Brooke makes her feelings about Thomas very clear to Katie and Donna, and Steffy unleashes her fury on Flo. Faced with a difficult decision, Ridge does what he thinks is best for his son, Thomas. Brooke can't believe what she hears when Ridge explains the deal he made for Thomas and Flo. Sally Spectra puts herself out there, and Wyatt admires what he sees. The fight between Brooke and Ridge escalates, and he ends up leaving while she's still reeling from the recent developments. Shauna shows up to visit Brooke, who expels her from her house. Sally overhears Wyatt and Flo, and tears a strip off of Flo for the damage she's done to Wyatt and the Forrester family. Shauna approaches a very drunk Ridge and tries to show her appreciation for the kindness he showed Flo.
Days of Our Lives
Eric tells Nicole about him and Sarah. Vivian makes a shocking confession to Stefan. Sarah struggles to decide whether or not to tell Eric she's pregnant. Just as Victor is about to kill Ben, Brady walks in. Hope has some heartbreaking news for Doug. A grisly arrival shocks Kayla and Jennifer. Gabi wants to call the police on Vivian, which upsets Stefan. JJ and Jack try to make a deal with Dr. Rolf. Vivian gives Sarah some unsolicited advice. Nicole and Kristen have an explosive confrontation, and John gives Kristen a very serious warning. Eli confronts Gabi and Stefan about Kate's shooting. Jack and Jennifer experience an unexpected setback that really crushes them. Eric and Sarah break up. Eve resolves to do everything she can to destroy Jack's happiness. Brady tries to resist temptation, and Sarah finds out that Xander knows her secret. Eve tries to talk Vivian into talking to Stefan for her. Vivian sneaks into the hospital, intending to finish off Kate.
General Hospital
Liz is getting desperate, and Monica visits the ICU. Sony hopes to strike a bargain. Brad tries to explain himself, and Elizabeth crosses Sam's path. Kim is devastated. Ava convinces Julian to reconsider his plans. Brad get some much-needed help, and Sony finds out where Dev is. Julian reaches out to Alexis, and Lulu and Dustin meet. Brad tries to find out in Julian has made a decision.
The Young and the Restless
As his health declines, Victor has an episode while he's at Crimson Lights with Nikki. Adam shows up just in time to witness the distress, and Nikki orders him to leave in case his presence makes Victor worse. At home, Victor is examined by Nate, who tells Victor he must stay home and avoid stress, which means skipping Abby's big party. Victor asks Nikki to be discreet about his recent flare-up, as he doesn't want the family to know. The Grand Phoenix celebrates their hard work at a pre-opening party. Zoe attends, but she's offended to find out her name wasn't on the guest list. When Summer calls her clingy,and Theo jumps in to make fun of her too, Zoe gets even more upset. Abby and Chelsea enjoy the spotlight on the opening night of the Grand Phoenix Hotel. Both women's moods turn quickly when Phyllis crashes the party. Sharon feels awkward when she witnesses Lola trying to hook Rey up with all the women at the party. Sharon tells Mariah that she's heading out of town to clear her head. Theo pushes Kyle's buttons and threatens to expose Lola. Victor puts up a strong front for his children for a while, but nearly passes out in front of the whole family. Nate runs some more tests, but insists on discussing the results with Victor privately.