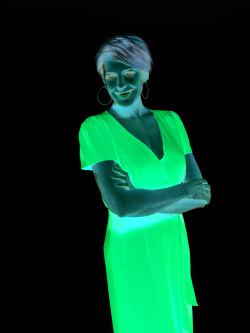 Arianne Zucker from "Days of Our Lives"
The Bold and the Beautiful
After the video of Brooke and Bill kissing was seen by so many, the fallout is intense. Quinn cannot keep quiet anymore, and she admits that she was the one who uploaded the video to Brooke's digital photo frame. Shauna packs for Vegas, and tells Flo how she managed to shoot the video. She also insists that she did not want to use it against Brooke, as she knew it would hurt Ridge. Quinn urges Ridge to take dramatic action and keep Shauna from leaving town. Bill begs Katie to forgive him. Brooke and Quinn face off. Ridge makes an enormous decision. Shauna lays out all the reasons Ridge should go back to Brooke, and Ridge explains to Shauna why he shouldn't. Bill agrees to give Katie some space, but also vows to fight for their relationship. Sally is upset when she hears that Wyatt is planning to see Flo, and Zoe weighs in on the Sally-Wyatt-Flo situation. Dr. Penny Escobar is even more concerned about Sally's behavior. Wyatt is surprised by Sally, and asks her to do something important for him. Flo visits Penny to try to learn more about Sally's illness.
Days of Our Lives
Brady is seriously injured. Stefano tries to convince Marlena to take John's life. Abigail and Anna try to rescue those they love. Nicole gets help from Gabe as she tries to track down Dr. Raynor. Abigail tries to help a brainwashed Chad to shake off Stefano's influence. Kayla and Justin discuss their relationship. Anna causes chaos for Stefano. Ben and Ciara talk about the future. Nicole is shocked when she gets a blast from the past. Sheila returns with a surprise, and Clyde turns Ben's world upside down. Leo returns with an offer for Sonny and Will. Eric learns that Nicole has been dishonest, and Nicole confronts Dr. Raynor. John plays Rolf. Eli and Lani have an awkward encounter with Gabi. Eric, Abe and Nicole are involved in a confrontation. Hattie says goodbye to Salem. Brady is confused by Mackenzie's birthmark.
General Hospital
Sonny receives some terrible news, and Jordan misleads Sam. Curtis is stunned. Britt confronts Nikolas, and Finn tries to reassure. Jordan is confronted by Curtis, and Brook Lynn strikes back. Nelle is up to her old tricks. Jason tries to get Jordan to come to his senses. Spinelli lends Sam a hand. Molly is worried, and Carly confronts Nina. Michael gets some advice from Monica. Sasha is shocked, and Sonny receives an important call. Jason visits Willow, and Alexis is angry with Sam. Sonny gets a call about Mike. Carly confronts Nelle, and Alexis has a surprising ally. Ava is surprised by Nikolas.
The Young and the Restless
Sharon tells Mariah about her anxiety about the tumour, and about how she could need a mastectomy. Mariah gives her encouragement, and tells her that they'll get through it together. Sharon tells Mariah and Rey that she would like to go to her scan alone. Nick accuses Billy of using Victoria. He's also frustrated with Jill because she didn't mention Billy's role in the new Chancellor venture. Lily interrupts them to keep things from escalating. Victor tells Nikki he'll be heading to Kansas. She's concerned about him leaving while Victoria is recovering. While Victoria vents to Nick, she suddenly begins to have chest pains. Jack, Ashley and Traci find something Dina wrote before she descended into Alzheimers. Summer notices that Nick and Phyllis are flirting, and later confronts them about their relationship.