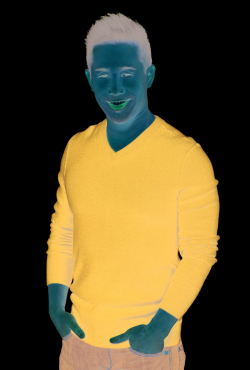 Parry Shen as seen in "General Hospital"
The Bold and the Beautiful
Zoe receives a special gift from Carter when Thomas and everyone at Forrester Creations throw her a surprise birthday party. Meanwhile. Vinny is upset by how Douglas is being affected by Thomas' plan, and Katie shares Sally's confidential medical information. Brooke is suspicious of Thomas throwing Zoe a party, and Ridge makes it clear to Brooke why it is that they're no longer together. Then, Wyatt promises to keep Sally's secret, and Hope criticizes Thomas for making a move involving Douglas without talking to her first. Zoe tries to connect with Douglas while Shauna is welcomed home by Flo. Liam is encouraged by Brooke to fix things with Hope, but he ends up facing off with Thomas, causing Hope and Zoe to be concerned when they overhear the argument. Katie tries to convince Sally to fight by sharing her experiences after giving birth to Will. Brooke and Ridge are mid-argument when Brooke notices Thomas eavesdropping and makes an accusation against him. Elsewhere, Hope tells Liam that their problems have nothing to do with Thomas, and Douglas makes his feelings about his dad spending time with Zoe known. Then in an effort to reach his goal, Thomas makes a drastic sacrifice.
Days of Our Lives
In order to save John's life, Marlena makes a sacrifice, and things don't go according to plan when Ben and Clyde stage an escape from prison. Meanwhile, Chad and Stefano get into a fight, and Kate and Rafe search for Princess Gina. Abigail and Chad find themselves trapped in Gina's lair. As Jennifer's memories return, she realizes it was Hope who pushed her off the balcony. "Steve" gets out of the hospital with help from Kayla. Brady and Kristen get closer, but she is still hiding a secret from him. Ben hides out at the DiMera gatehouse. Eli and Abe discuss Lani before Eli and Gabi's Valentine's Day wedding starts. Then, Chad and Abigail have a romantic moment, and Ciara and Ben are found hiding out at the gatehouse.
General Hospital
Anna is stressed and Carly wants to learn the truth. Sonny worries about Mike, but tries to remember to appreciate the time they have. Meanwhile, Finn is determined to protect his love and Jason and Sam have a secret meeting. Then, Emma and Peter bond, and Nina talks with Ava. Jax finds motivation to move forward. Alexis tries to be supportive of Valentin when his life suddenly takes a bad turn.
The Young and the Restless
Kyle shocks Jack when he tells him he never really got over Summer. It breaks Kyle's heart to admit that he can't be the husband that Lola needs and deserves. Jack heads to the ranch to defend Billy, but is stunned when Victor tells him that Billy tried to kill Adam. Victor can't believe he gave Billy a second chance, but he isn't really surprised that Billy's life is falling apart yet again. Mariah and Ray crack Sharon up during her chemotherapy session. Rey says he's offloaded some work so he can be there with Sharon, and she's worried that he's risked his job for her. Adam lets Chelsea know that he needs to head back to Las Vegas to tie up some loose ends. He manages to convince her that she doesn't need to know all of the details regarding this trip. Chelsea wants to know whether the trip has anything to do with the phone call she overheard, and Adam promises to fill her in on all the details at the right time. Chloe and Kevin take their sonogram photo to Esther, Michael and Lauren, and Kevin finally admits that he already knows the baby's gender. Nate is upset to learn that Amanda was dragged into the mess between Victoria and Billy. Billy casually mentions that he survived a terrible car wreck. Amanda and Nate worry about him, and wonder if he could be addicted to the adrenaline rush. Billy laughs the idea off.