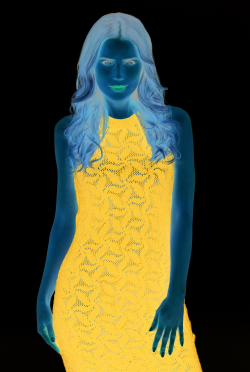 Sofia Mattsson from "General Hospital"
The Bold and the Beautiful
Katie updates Steffy on the current situation between her and Bill. Sally tells Wyatt that she's willing to give if she gets something from him in return. Flo asks Dr. Escobar for answers, and Sally makes a move on Wyatt. Brooke is terrified when she can't find Ridge. Donna tires hard to reassure her friend that everything is going to be ok. Quinn tries to smooth things over with Eric after she outed Brooke and Bill for their kiss. Donna tells Brooke about her idea to go to Katie to try to negotiate a truce, and maybe even forgiveness. Ridge suggests a different path when Shauna tells him he should call Brooke. Brooke gets an unexpected visit from Bill. The bond between Ridge and Shauna deepens. Donna is frantic to get Katie to see things from Brooke's point of view. Brooke asks Eric to assist her in finding Ridge, but Eric is conflicted. Flo can tell that something about Dr. Escobar isn't quite right. When Brooke tells Eric that she blames Quinn for the mess she's in, Quinn overhears and confronts Brooke. Ridge is distracted from his problems by Shauna. Dr. Escobar is exasperated with Sally and her obsession with Wyatt. Flo tells Wyatt that she thinks Sally should move out of his house, which surprises him. Shauna and Ridge have a crazy night in Las Vegas as Brooke pulls out all the stops to track Ridge down.
Days of Our Lives
Nicole tells Eric the truth about Mackenzie. Xander begins to plan for his wedding to Sarah. John is nervous as he waits for an update on Marlena's surgery. Stefano is determined to maintain control over Steve's body, despite Kayla's attempts to thwart him. Eric plans to tell Brady and Kristen the truth about their daughter. Kayla makes a daring decision in her efforts to get Steve back. Stefano makes a last attempt to see his children. Abigail and Anna are concerned about Chad and Tony. Kayla and Sarah run into surprise complications during Steve's surgery.Eric and Mackenzie share an emotional goodbye. Xander asks Xander for a surprising favor. Evan and Ben meet. Justin tells Jennifer about his anxiety at the prospect of losing Kayla. Victor and Xander share a tender moment. Sarah is intercepted by Nicole and Eric on the day of her wedding. Kayla waits at Steve's bedside after his surgery. Sarah is shocked. Kristen struggles. Marlena tries to help Steve, who wakes up from his surgery, but there's a complication.
General Hospital
Jason stands firm, and Sonny worries about Brando. Michael hashes out his next move. Bobbie is hit with some worrying news. Nina tries to get Nelle to see reason. Sonny is concerned about Carly. Peter thinks Robert needs a distraction. Dr. Obrecht receives a visit, and Nina is surprised by Jax. Someone intimidates Michael, and Chase comforts Willow. Nelle and Valentin run into one another. Nikolas and Sonny have a confrontation, and Jason and Sam spend time together. Willow worries about Wiley.
The Young and the Restless
Victoria lets Nikki know that she feels ready to get back to work after an energizing conversation with Billy. While Nikki is very nervous for Victoria, she's happy to have her back. Nick is given the rest of the day off by Victoria, and he runs into Nikki at the Grand Phoenix. He tries to get Nikki to trust that Victoria is going to handle things well. When Nikki realizes that Nick is there to meet Phyllis, she tries to talk him out of being with Phyllis again, but he won't listen. Phyllis tells Amanda that she and Nick are going to try to make it work. Amanda is happy for her. When the medical clinic opens, Devon applauds Nate and Elena for their success. Later, Amanda asks Nate out. Abby and Chance arrive home after their trip to Europe, and Abby lets Devon know that Colin has been caught. When Devon passes the information to Amanda, Jill apologizes for misjudging her. Devon offers Amanda a job, and Amanda says she'll consider it. Later, she tells Devon that she is going to go on a date with Nate. Adam meets up with Victor and says he has the evidence needed to take him down. Lola and Theo hang out with Dina at the Abbott house, and Kyle turns up during the visit. Kyle and Theo argue, and Jack tells them their feud is out of control. Lily and Billy offer Traci the chance to run a division of the company.