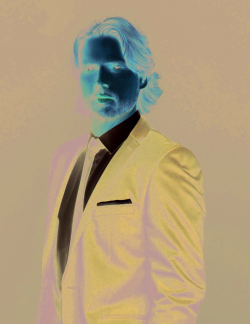 Joshua Morrow as seen in "The Young and the Restless"
The Bold and the Beautiful
Brooke pays Eric a visit to see if he will help her find Ridge. Eric is torn between his loyalty to Brooke and the disappointment he feels in her after seeing the video. Flo can tell there's something strange about Dr. Escobar. Brooke tells Eric that she blames Quinn, and Quinn overhears the comment. Shauna helps Ridge take his mind of his problems. Brooke demands that Quinn tell them where Ridge is. Dr. Escobar loses patience with Sally's obsession with Wyatt. Flo tells Wyatt that she thinks Sally should move out, and he's shocked. Brooke finds new ways to track Ridge, who has a wild night in Vegas with Shauna. When Ridge wakes up, he has a terrible hangover, and he's shocked to see that Brooke is waiting for him instead of Shauna. Bill confronts Quinn about what she did with the damaging video. Flo insists that Sally should move out, and claims it would be best for everyone. Wyatt begs Sally to look into further treatment for her "illness." Bill threatens to destroy Quinn's life if she ever hurts Katie again. Sally is shocked and angry when Wyatt asks her to try going to a clinic, and she knows that Flo is behind it. Quinn tries to discuss the video with Katie, but she won't apologize for exposing Brooke. Flo gets a chance to search Dr. Penny Escobar's computer.
Days of Our Lives
Brady gets some alarming news from Eric and Nicole. Sarah and Xander begin their wedding night. Steve and Kayla reach a point of emotional breakthrough. Marlena and John intervene in an effort to help Kristen. Sarah is enraged with Xander for what he did. Nicole confronts Eric while he's in mourning over the loss of his baby. Kristen is stunned when Brady tells her the news about Rachel. Kayla tells Steve that she is now with Justin. Eric confronts Xander, and Sarah makes a surprising decisions. Jack tries to get Steve to fight for Kayla. Sonny and Will have a talk about the prospect of growing their family. Hope is still struggling with her past. Rafe gets some surprising news from Zoey, Evan's attorney. Ben is happy to be surprised by Ciara. Sonny warns Justin about Steve. Marlena gets the news about Orpheus from John. Rafe and Orpheus have a showdown about David. Justin declares that he will fight for Kayla, who is torn between him and Steve.
General Hospital
Peter wishes Robert had more in his life to distract him. Dr. Obrecht is visited by someone. Nina is surprised by Jax. Michael finds himself intimidated. Chase is who Willow turns to for comfort. Nelle and Valentin run into one another. Nicholas and Sonny get into it. Jason and Sam enjoy a little time together. Willow is very worried about Wiley. Violet throws a party that is chock full of emotion and mischief.
The Young and the Restless
Abby gets a visit from a code enforcement officer at the Grand Phoenix. He tells her that he is shutting down construction across the street. Abby and Phyllis are arguing when Nick arrives, which is when Abby discovers that they're back together. Alyssa asks Chelsea why Adam has not yet published her expose. Adam lets Alyssa know that he has plans to publish the article in a national magazine, and Alyssa is satisfied, for now. Nick and Phyllis talk about their romantic relationship, and Nick declares that he is all in. Nate and Amanda share a kiss on their second date. Summer and Kyle work on his pitch at Jabot. They talk about Summer's suspicions that Theo is stealing their product, and Summer decides to set a trap to catch him. Phyllis tells Chance that she had planned to give Nick the flash drive in an effort to stop Adam from going actor Victor and Victoria. Chance tells Abby that the flash drive has been destroyed, and she says that at they could record another conversation and get Adam talking about what happened in Vegas. But since Adam saved his life, Chance does not want to betray him. Nikki tries to get Victor to tell her his secret, the one he's been keeping since he went to Kansas. Victor agrees to tell her, but gives her a dire warning: this secret could destroy the Newman family.