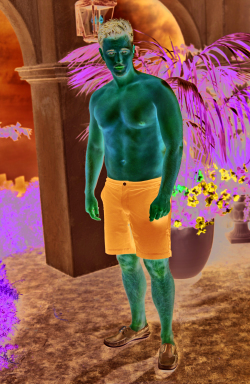 Darin Brooks from "The Bold and the Beautiful"
The Bold and the Beautiful
The Forresters question Zoe when she tells them she has accepted Thomas' proposal. Meanwhile, Brooke and Ridge aren't sure about Thomas' intentions and Douglas is comforted by Hope. When Steffy shows Ridge Sally's most recent designs they begin to wonder if Forrester Creations is the right fit for her. Sally is encouraged by Katie to look into her options for treatment and Wyatt puts a plan in motion to help her. Then, Katie tells Ridge and Steffy about Sally's medical problems to try and stop them from firing her. Sally reveals her true feelings to Wyatt not realizing that he knows her secret. Flo shows her compassionate side when she and Wyatt discuss Sally. When Wyatt asks a big favor of Sally, she is shocked. Sally becomes suspicious that Katie told people she's terminally ill as Wyatt professes his love for her and Katie pushes her to accept his offer.
Days of Our Lives
When Ben is brought back to prison he and Ciara are once again separated. meanwhile, Maggie struggles with painful memories and Gabi uses a situation to her advantage. Then, Will wants to expose Maggie but Victor pushes him not to. While Gabi desperately tries to avoid going to jail, Maggie talks to Xander and Victor about the night Adrienne died. Julie and Valerie try to convince Eli to make up with Lani. Eric and Sarah have a tough decision to make. When "Steve" shows up unexpectedly, Justin is shocked. Then, Maggie opens up to Sonny and Chad revels in the fact that Gabi has been fired from DiMera. Lani and Eli finally make up. Gabi is attacked by Stefano and Sonny gets a surprise from Will. Maggie goes to Justin and sincerely apologizes. While Evan is confronted by Rafe about his lies, Ciara learns important information about who killed Jordan. Stefano suggests that Justin exchange Marlena for Kayla. Before he is executed, Ben says his goodbyes to Clyde.
General Hospital
Michael enjoys his morning, and Monica is happy to get some good news. Jason comforts someone. Nelle stubbornly digs in, and Carly gives someone a warning. Sam lets Julian have it. Jordan explains everything to Laura. Nikolas talks to Liz. Joss is surprised by some information. Carly is concerned, and Alex reflects on how things could have been. Cameron and Trina prepare for their first date. Spinelli comes through, and Michael gets a shock from Willow. Sasha tries to do what's right for her.
The Young and the Restless
Amanda tries to talk Billy out of going to Victor's gala, but he promises to behave before heading off alone. Amanda follows him to the Newman Gala. Adam lets Chelsea know that he's thinking about helping out at Newman, and Chelsea is worried that he may come off as opportunistic. She tells him that, as his future wife, she will support him in whatever he decides to do. Nick is worried about Victor overworking himself, but when Adam offers to take charge, Victor says he needs time to think about it. In the hopes that Phyllis will back off, Abby offers to buy her shares of the Grand Phoenix for a very generous price. This makes Phyllis suspicious, and she says she needs time to think it over. Theo tells Mariah about a photo of Tanner and Tessa that was posted on social media, and Mariah is concerned. Later, Tanner appears shirtless in Tessa's room when she and Mariah are on a video call, and Mariah asks Tessa point-blank if she's slept with Tanner. Tessa seems offended and hurt by the question, but does not answer it.