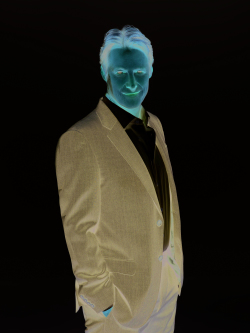 Matt Ashford stars in "Days of Our Lives"
The Bold and the Beautiful
Sally is surprised when Wyatt suddenly proposes to her. Meanwhile, Bill panics and calls an ambulance for Katie. At the hospital Dr. Armstrong urges patience but Bill is still panicked and professes his love to Katie while she is unconscious. Brooke is reluctant to believe that Ridge doesn't trust Bill. Bill, Ridge, Donna and Brooke visit Katie in the hospital while Sally and Wyatt celebrate their engagement. Quinn complains to Eric that Flo deserves Wyatt's forgiveness and confronts Wyatt to try and get them to reunite not realizing he is now engaged to Sally. Meanwhile, Sally and Flo run into each other at the Bikini Bar. Eric shows up at the hospital worried about Katie who regains consciousness only to get devastating news. Bill promises that she'll recover. Quinn tries to convince Wyatt that Sally can't be trusted. Brooke admits to being anxious about Thomas being free. She and Ridge have another fight about protecting their children. When Ridge finds Thomas alone with Douglas, who he broke the rules to see, Thomas must cover. Flo worries about the depth of Shauna's feelings for Ridge. Ridge and Thomas have a touching father son moment but Brooke and Thomas have an epic fight when she finds him in her house and demands that he leave. Ridge confides in Shauna about how he and Brooke haven't been seeing eye-to-eye lately.
Days of Our Lives
Kristen wants to win Brady back and insists that Xander help her, but Brady is having difficulty fighting off his attraction for Kristen. Elsewhere, Lucas tries to figure out his options regarding Kate's life, and Gabi is torn when Will asks her if it was Vivian who shot his grandmother. Ben asks Marlena for help with Jordan while Sarah and Brady try to support each other through Kristens chaos. Meanwhile, Lucas gets Kayla to run tests to find out if Kate's heart would be a match for Julie, and Kristen asks Rolf to take on a strange procedure. Jack and JJ are still searching for Jennifer who is trying to get Dr. Shah to trust her. Sarah prepares for her abortion and Julie makes a request of Maggie while on her deathbed. Eli and Lani find out Lucas is giving Julie Kate's heart, and he and Will say goodbye to Kate. Kristen gets some shocking news from Rolf. Dr. Shah and Jack fight over Jennifer resulting in an emotional reunion between Jack and Jennifer. Sarah changes her mind about ending her pregnancy. Gabi is upset when she finds out Vivian told Stefan that he would be better off with Eve.
General Hospital
Bobbie is stranded. Sam is in a hurry to get to the Haunted Star. Finn and Peter meet up. Shiloh is hesitant. Jason tries to get in touch with Sam. Peter collects money. Brad apologizes and Sam gets trapped. Chase goes to the docks. Michael runs into Willow. Sasha is meeting Nina for dinner. Chase brings a stretcher into the hospital. Jordan takes Jason's statement. Carly heads to the hospital. Olivia is very hostile.