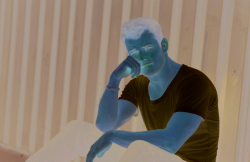 Michael Mealor stars in "The Young and the Restless"
The Bold and the Beautiful
Thomas wakes up in a hospital room, and he's very confused. He's greeted by Dr. Armstrong and his family, as well as Det. Sanchez, who is eager to learn more about his fall. Brooke gets nervous as Thomas attempts to answer questions about how he fell. Wyatt shares a sweet surprise kiss with Sally. Shauna and Flo begin to worry that Flo's predicament may be worse than they imagined. Ridge confronts Brooke and accuses her of having no remorse about Thomas's fall. Brooke remains shocked that Ridge apparently cannot believe that she did not purposefully cause Thomas's accident. Bill and Katie kiss, and then discuss how Shauna and Flo were involved in the destruction of their family. Ridge visits Flo in jail. Bill is shocked when Brooke finally tells him what happened the night Thomas fell. Ridge flies into a rage and demands answers from Flo. She rages back, implying that Thomas had some involvement in Emma's death. Bill visits Thomas, then goes head-to-head with Ridge. Brooke and Liam have a heated discussion about Thomas and Ridge. Thomas is questioned by Det. Sanchez, this time regarding Emma's death. Ridge demands that Thomas tell him the truth about Emma, and Bill helps Brooke collect evidence against Thomas. Liam and Hope rekindle their romance.
Days of Our Lives
Jack, Eric and Jennifer uncover something shocking. Gabi makes a mistake that could prove fatal, and Stefan receives a surprising phone call. Julie receives help from Ben and Ciara. Hope reads Ted's letter as Doug supports her. Gabi is shocked to learn that Vivian is still alive. Julie fights for her life. Sarah is conflicted when Eric shares news about Holly and Nicole. Kayla must deliver heartbreaking news to Hope and Eli. Lani loses it on Gabi for leaving Julie. Doug and Ciara stay by Julie's side, while Eric and Vivian find themselves in a perilous situation. Sarah realizes something unsettling, and Eric tracks down Nicole. Stefan and Vivian are reunited, while Victor makes plans to get rid of Ben. Vivian comes face to face with Kate. Ciara suspects something is up when Brady offers her a job. Sarah confides in Kyla, and Victor puts a hit out on Ben.
General Hospital
Cameron lends a hand at home. Julian gets very defensive. Sonny discusses the issue of Dante with Olivia. Cameron gets confrontational, and Epiphany has some upsetting news. Alexis gets her very own disappointing news, and later becomes suspicious. Julian is encouraging. Elizabeth does her best to keep a level head. Nina finds herself getting overwhelmed, and Obrecht gets what she wants. Jax has a lot of questions.
The Young and the Restless
Adam vows that he'll stop at nothing in his quest to take Victor down, and blackmails Michael with incriminating photographs. Michael convinces Lauren to help him bring Adam down. When Adam steals Nate's hospital tablet, Phyllis helps him hack into it. Adam plans to find medical records to use against Victor. Nate notices that his tablet is missing and suspects Adam immediately, but he has no hard evidence. Nate tells Abby what he suspects happened, and they get concerned about Adam's plans. Summer grows impatient with Theo as the opening of the Grand Phoenix draws nearer, but she finds herself getting reeled in by his charm. She agrees to attend the opening as his date. Zoe is on Summer's last nerve, though, and Summer finally snaps, demanding that Zoe be less clingy. Theo stands behind Summer, which upsets Zoe. After failing to get through to Adam, Sharon decides she needs to get away. She plans a trip in order to clear her head and reevaluate her priorities. Nick supports her, and encourages her to take time out for herself. Jack admits that his life feels empty, and he asks the people around him for advice.