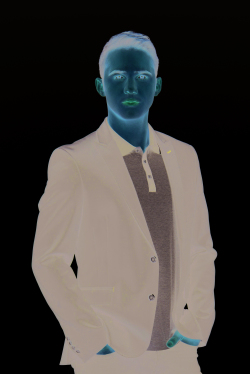 Casey Moss as seen in "Days of Our Lives"
The Bold and the Beautiful
As Hope pressures Liam to commit to her and their future, Steffy remains silent. Zoe and Thomas discuss her father's conviction, and Thomas lays out his latest scheme. Ridge and Shauna discuss the trouble that Shauna and Flo have had with the Logans. Zoe is shocked to learn that Thomas has been using her as inspiration for his sketches. Steffy finally gives Hope the facts about their situation. Hope lets Liam know that she wants Douglas to live with them permanently. Thomas finds out about Brooke and Hope's plan. When he turns up at Brooke's place to confront them, he finds Douglas there. Vinny finds out that Thomas invited Zoe to live with them. Steffy finds Thomas' latest designs impressive, but still isn't ready to forgive him. When Thomas refuses to do what Hope and Brooke want him to, Hope asks Brooke to leave her alone with him. While they're alone, Thomas tells Hope what he wants for Douglas. Liam worries about the two being alone together. Ridge tells Steffy that he will make sure Thomas is the one who raises his own son. Thomas tells Ridge that it was Brooke, not Hope, who drew up the adoption papers, and Ridge is furious. Bill visits Wyatt and asks him about Sally, confessing that Quinn asked him to intervene. Thomas and Ridge confront Brooke, Hope and Liam.
Days of Our Lives
Xander wants Sarah to do him a favor in return for keeping her secret. Eve refuses to sign the divorce papers for Jack, and Jennifer tries to get into Rolf's flash drive. Brady supports Kristen as she deals with a medical crisis. Kayla and Roman have concerns about Hope's strange behavior. Jennifer is threatened by Rolf, and Jordan cooks up a sinister plan. Ciara helps Ben make a gift for David, and things get a little romantic. Eli and Lani make wedding plans. Gabi plots how to thwart those plans. Justin proposes to Adrienne. Brady gets the paternity test results, and Jack and Jennifer's romance is derailed. The day of Stefan's funeral arrives, and Gabi vows to avenge him. Jack asks Jennifer to marry him. Unaware of what Jordan has planned, Ben and Ciara go to David's birthday party. Brady is concerned about Kristen, who insists on going to Stefan's funeral. Eli and Julie have a chat. At David's party, Ciara suddenly feels ill.
General Hospital
Flowers are delivered to Brad. Ava collapses. Michael's patience wears thin. Jason turns to Laura to find answers, while Elizabeth gets through to Julian. Finn makes plans to visit Hayden, and Jordan tells of Franco and his heroism. Elizabeth gets emotional. It is clear that Monica is upset. Kim is dumbfounded. Finn doesn't understand what's happening. Valentin has cause to be very smug. Ava has enough and storms out, and Kim makes a shocking admission.
The Young and the Restless
Abby is cornered by Phyllis at the Grand Phoenix. Phyllis shares her thoughts about security, and Abby agrees to her pitch. While at the coffeehouse, Nate surprises Elena by defending Amanda. Elena asks him if he's falling in love with Amanda, but he insists he's not. Elena worries about how much stress Devon is feeling because of Katherine's will and Tucker's disappearance. Devon realizes that everyone connected to the will have disappears, and this worries him. When he attempts to bribe Amanda for information about Chance, Amanda takes offense. Theo tries to charm Abby, but mentions Arturo, which throws everything off. Nick has conflicting feelings when Chelsea wants to bring Adam back from Vegas, and Chelsea begs Phyllis to tell her where Adam is. Phyllis agrees, but tells Chelsea that they'll have to talk Adam into leaving. Mariah tells Sharon what she's been up to, then asks about her mom. Sharon is advised to be more aggressive in her pursuit of Rey. Sharon and Rey get over their discomfort and make a plan. Victoria has a hard time telling Billy that Adam is back. Billy tells her he can handle it.