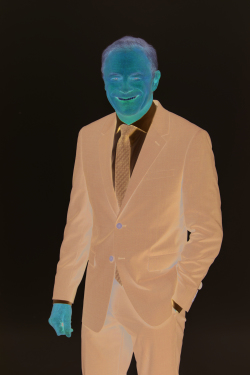 Tristan Rogers stars in "General Hospital"
The Bold and the Beautiful
Thomas lets Hope know exactly what she'll have to do to get him to sign the adoption papers. Donna and Brooke talk about Hope's plan, and worry about how risky it is. Steffy comes to Thomas's defense while talking to Liam. Ridge figures out what Hope is planning. Liam realizes that Steffy is ready to get back out there and date. Hope tells Brooke about Thomas's awful proposal, and Brooke's suspicions about his motivations are confirmed. When Bill visits with Hope and Liam, he senses that something is wrong between them. Brooke is sworn to secrecy regarding Thomas's proposal, and Liam agrees to go back to Spencer Publications. Zoe and Thomas share an unexpected kiss. Thomas urges Douglas to reach out to Hope, while Liam looks on with apprehension. Steffy is shocked to find out that Thomas is really considering sharing custody with Hope. Thomas uses the adoption papers to lure Hope to him. Ridge spends time with Shauna, and tells her of his concerns about Douglas, Brooke and Hope. Thomas plays games with Hope and the adoption papers, while Donna tries to allay Brooke's fears. Steffy extends an invitation to Liam. Ridge confronts Brooke, asking her pointed questions about Hope's plans. Thomas makes a grand gesture, and expects the same of Hope. Brooke and Ridge fight about Douglas's guardianship. When Thomas won't tell Hope where Douglas is, she goes looking for him, but gets cornered by Thomas instead.
Days of Our Lives
Lani comes to a heartbreaking decision, and her hand is forced by Gabi. Marlena gives Sarah a warning about dating Xander. Jack and Jennifer get some good news from Justin and Adrienne. Two exciting events happen simultaneously in town square. Eve tries to make things difficult for Jennifer and Jack. Jennifer discovers something shocking. Princess Gina goes to extremes to keep Rolf's secret. Kyla and Haley try to save Jennifer. Eli stuns Julie when he tells her about the wedding. Lani punches Gabi. Kristen has a pregnancy scare, and Ben worries that he may have to kill Jordan. Jack and JJ look for the truth about Jennifer's fall. Nicole tries to decide whether she should tell Eric about Sarah's pregnancy. Ben discovers something horrific. Kristen shocks Eric. John and Marlena celebrate a year of marriage, and Gina tries to make sure Jennifer never wakes up.
General Hospital
Lucas makes serious accusations. Brad goes to Julian. Valentin feels relief. Julian lends his support to Ava, and Franco realizes something important. Elizabeth gets some very bad news. Finn can't bring himself to face Anna yet. Alexis gets worse, and Jax stops Laura. Sam has some questions, and Cassandra is concerned and frightened. Nina goes to visit her brother's grave. Charlotte sits down for dessert with Maxie and Lulu. Jason gets an alarming phone call. Julian heads to the hospital.
The Young and the Restless
Amanda meets with Nate at the Grand Phoenix to talk about the medical board hearing. Nate tells her about his part in fabricating Victor's death, and Amanda thinks he's leaving out something important about his relationship with Abby. Nate is upset that she thinks he would put his whole livelihood in jeopardy for anyone, and explains that Abby didn't force him to do anything, and Adam poisoned him. Amanda is impressed with Nate for standing up for himself, and wants to help him with his case. Victor agrees that Amanda and Hilary look alike, and apologizes to Nate for the investigation. Victor wants to help, and hopes Nate can understand why he's made certain choices. When Nate leaves, Victor makes a call. At the coffeehouse, Mariah needles Sharon about the flowers she got from Rey. The pleasant romance of it all distracts Sharon from her studies. Mariah is happy for them, but worries that Adam will mess it all up. She thinks Adam is manipulating Sharon. Sharon doesn't think Adam can affect her relationship with Rey.