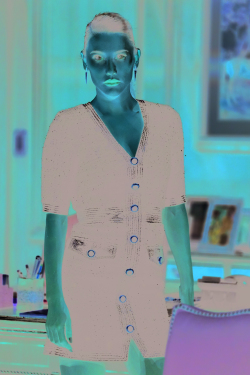 Jacqueline MacInnes Wood in "The Bold and the Beautiful"
The Bold and the Beautiful
Brooke and Ridge are desperate to find middle ground, but they keep landing on opposite sides of the Thomas argument. Liam is very skeptical when Steffy tries to convince him that Thomas is not a threat to anyone. Hope searches frantically for Douglas. Liam tells Steffy about his plans to return to Spencer Publications. Hope comes to a horrifying conclusion. Ridge vows not to let Hope win custody of Douglas. Hope tells Brooke all about the scary sequence of events that happened at Forrester Creations with Thomas and Douglas. Liam is shocked to hear Hope say that she is now legally Douglas's mother. Hope is wracked with guilt about lying. Once he has Hope's attention, Liam tells her about his plan to leave Forrester Creations and return to his family business. Ridge shows Steffy Thomas's designs. Brooke keeps telling Hope that she's done nothing wrong and shouldn't feel bad. Liam tells Ridge and Steffy about Thomas signing the custody papers. Ridge doesn't take that news well, and he makes accusations about Brooke and Hope taking advantage of Thomas. After rushing to Brooke's house to confront the women, Ridge demands that Brooke and Hope give him answers about Thomas and Douglas. Steffy tells Liam that she's worried about Thomas.
Days of Our Lives
Jennifer reunites with Abigail and JJ, and Sarah's baby issues take a strange turn. Ben confides in someone surprising. An unexpected death is revealed. Jennifer learns from Jack that the person to blame for her fall is already in prison. Sonny gets to know Evan, Rafe's nanny. Ciara lets Victor know that she is giving up on Ben, and Princess Gina is spotted with a surprising companion. Eric realizes that JJ is high, and Brady looks back on the struggles of the past year. Nicole and Sarah share how guilty they feel about their lies. Chat confesses to Abigail. Gabi lets Eli know her suspicions about Chad. JJ freaks out at Brady. A shocking revelation is made about Lani. Abigail finds out Chad has been in contact with Stefano. Princess Gina makes a move. Julie is concerned when her heart races for no apparent reason. Kristen talks about why she left Salem, and Kayla heads home for a romantic night.
General Hospital
Lulu goes into panic mode. Valentin gets a troubling call, and Jason seeks out Jax to confront him. Carly and Jax come to an agreement. Jason and Valentin have a visit. Nina is freaking out. Chase gives Robert some advice, and Lulu finds some common ground with Valentin. Jordan is intrigued. Hayden and Violet have their visit cut short. Monica shows Kim some kindness. Elizabeth and Cameron visit Sonny. Jason makes a statement, and TJ is gets a diagnosis. Finn lets Liz know that he and Anna have some things to figure out.
The Young and the Restless
Devon and Elena are reunited when Devon returns from his search for Tucker. He tells her that he found Tucker in a secluded commune in Thailand, and that Tucker had denied forging Katherine's will. Tucker also insisted that he is on a quest for inner peace and enlightenment, and wants to be free of materialistic things in his life. Nate, meanwhile, is not happy when he overhears a phone call between Cane and his investment manager. Nate doesn't hold back his feelings, and lets it be known that he thinks Devon was screwed out of the will. Cane insists that it wasn't his fault. Nate and Amanda meet up to discuss the strategy for Nate's medical board hearing. Victor turns up, and he has decided to take full responsibility so that Nate will be exonerated. Adam asks Victor's permission to visit Hope's farm. This impresses Victor, and he gives his permission, but wonders why Chelsea would let Adam leave with Connor. He gives Connor a knife to carve their names in an elm tree in Kansas, and Adam is touched by this grandfatherly gesture. Nikki is proud of how Nick is connecting with voters, but she wonders why he hasn't told Victor what he's doing. Nick finally agrees to tell his father, but thinks Victor doesn't support him or his campaign. Nikki wants him to cut his dad some slack. Victor wanted Nick to aim higher, but hopes his son will crush the competition.