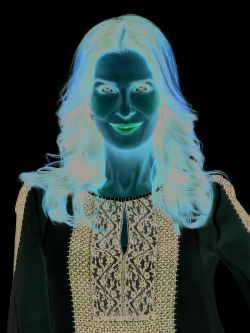 Kristian Alfonso as seen in "Days of Our Lives"
The Bold and the Beautiful
Flo decides to tell Hope that her baby is still alive, and Reese must act quickly to prevent her from divulging the truth. Wyatt does his best to assure Sally that he loves her. Reese convinces Zoe to stay silent. Steffy announces that she, Kelly and Phoebe are heading to Europe, and suggests that Liam and Hope take some time to work on their marriage. Donna and Justin get Wyatt and Sally to help them get Katie and Bill together. Hope doesn't want to miss out on time with Phoebe, but Steffy tells her it's for the best. Bill and Katie meet at Il Giardino. Taylor can't believe that Steffy would make sacrifices for Hope's relationship. Ridge wonders how things between Liam and Steffy would have played out if Bill hadn't gotten involved. Thomas and Douglas get a warm welcome when they return from New York City. Thomas asks a big favor of Wyatt and Liam, and Sally apologizes to Thomas. Taylor looks for ways to convince Steffy to stay, and Thomas is touched by Hope's tenderness for his son.
Days of Our Lives
John tells Leo that they are father and son. Diana follows through on her deadly scheme. Jack tries to get to Haley through Tripp. When Haley is arrested, Claire pretends to be innocent. John discovers an unconscious Marlena. A unexpected turn of events leaves Sonny and Will celebrating. Brady warns Rex about Eric's history. Chloe and Stefan bond while discussing Holly and their similar pasts. Diana comforts John, and JJ tries to help Haley. Tripp asks Claire how first responders knew how to find Haley. Leo tells Brady that they're brothers. A nurse claims it was Kristen who tried to kill Marlena. Sarah acts on impulse and kisses Eric. Rex confides in Chloe, and Leo wants to make a deal with Stefan. Marlena takes a turn for the worse. Stefan tells Ben he shouldn't give up on love while Julie and Ciara discuss Ben.
General Hospital
Erica falls hard for Ryan. Jason's determination is stronger than ever. Liz's issues are bigger than ever. Joss takes the blame. Sonny reaps the rewards of his good deed. Valentin is warned by Sasha. Jason and Drew being to realize the truth. Ava is struggling and becomes confrontational. Franco offers support. Shiloh tries to help Kim, but she's not interested. Jason tells Molly things will work out. Alexis needs more time. Michael is pulled into an argument.
The Young and the Restless
Ana pressures Devon into listening to her new songs, and Devon begins to worry when she reveals that she needs to sell more of her music to stay afloat. When Devon investigates, he finds that Ana has been lying about her financial situation, and he confronts her. Ana gets angry and demands that Devon stay out of her business, but eventually she cools down and the pair makes peace. They promise to be more honest and respectful, but Devon struggles to trust her. Jack and Billy worry about their friends in prison, but still go ahead with their plans, thanks to Kerry. Phyllis still believes that Kerry is trustworthy, and tells her about upcoming business dealings that will damage Ashley's cosmetics company. Tessa's blackmail confessions get her arrested, and Mariah takes immediate action to collect enough money to bail Tessa out. Mariah worries that she'll lose both her mother and her girlfriend, and she confronts Nick. Nick tells her that Tessa got what she deserved. Billy, Victor and Nick visit Victoria, Nikki and Sharon. Billy tells Victoria that he will take care of the kids, Nick and Sharon make peace, and Victor promises Nikki he'll avenge the women.