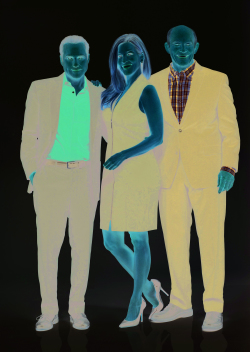 Maurice Bernard, Laura Wright and Max Gail star in "General Hospital"
The Bold and the Beautiful
Hope becomes upset after she loses something that was very close to her heart. Brooke feels sure that Thomas is using Douglas as a pawn in his scheme to win Hope's love. Meanwhile, Hope is shocked when Thomas surprises her with a Forrester Original and a kiss. Flo and Steffy push back when Liam and Wyatt attempt to plan a gathering. Xander loses his cool with Thomas when he realizes that he's manipulating Hope. Flo and Steffy agree, but for different reasons, that baby Phoebe is assuredly a Logan. Thomas remains firm when Brooke accuses him of controlling her daughter. Thomas, Zoe and Zander argue amongst themselves as their web of lies begins to unravel. Zoe and Xander struggle with being on opposite sides of doing the right thing. Hope thinks back on her life with Liam as Thomas spirals out of control.
Days of Our Lives
Will and Sonny finally get married again. Kristen, disguised as Nicole, tries to hide Ted from Stefan and Abe. Maggie asks Xander why he lied to her. Kate and Gabi talk about Nicole's suspect behavior. As Will fights for his life, Sami and Lucas return to Salem to be there for their son. Stefan provides comfort to Gabi about Will. Ciara tells Tripp that Claire set both fires. Claire and Eve scheme together to get the goods on Ben. Rex and Sarah create an antidote for Will, but they may be too late. Ciara and Tripp pretend to believe that Ben is guilty in front of Claire. Roman has upsetting news to share with Kayla. Sami and Lucas pray for Will to recover. Sami tells Will the news about Caroline. Kayla informs Victor about Caroline's death. Later, Hope and Victor share a touching moment as they remember Caroline. Family and friends gather at the Brady Pub to mourn the loss of the beloved matriarch. Claire becomes a loose cannon when Tripp breaks up with her. Hope looks for Ted. Kristen orders Xander to do away with Ted. Rex tells Sarah he wants to get married right away.
General Hospital
Peter asks Mac to help him. Laura relishes the chance to share her opinion. Jax gets an interesting offer, but declines. Maxie thinks she's found a clue that will lead her to Dante. Michael drops in on Sonny. Willow shocks everyone when she makes a confession. Carly has concerns about Jason's plans. Sonny's past catches up with him. Alexis gives Diane an explanation. Josselyn has some suspicions. Alex is skeptical about Shiloh. Valentine talks Curtis into lending him a hand.
The Young and the Restless
Sharon and Rey finally reconcile after their fight about Adam. Despite Sharon's insistence that she has no feelings for Adam, Rey still tells him to keep his distance from Sharon. When Adam realizes he is driving a wedge between the couple, he decides to stay at the house. Lauren and Jack take a business trip to Los Angeles, where Jack starts to value Lauren's company more and more. Lauren vows to help him through this transition time with Dina, Kyle and Ashley having moved out. Jack meets a woman named Mallory while visiting Dina and they strike up a friendship. The two bond over their similar struggles and decide to keep talking over coffee. Traci becomes disappointed when Cane blows her off to talk to Lily. Tessa, Mariah and Ana decide to put aside their differences as they realize they are stronger working together. They decide to make a video about Tessa's daily life to show to fans. They use JCV products in the video to promote both brands. Despite everyone's satisfaction with the finished product, Devon doubts Ana and suggests she needs someone above her to show her the ropes. Ana protests in anger, but Devon insists she's too green to be managing artists on her own.