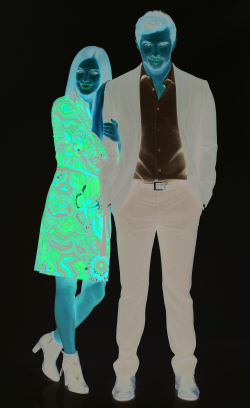 Katelyn MacMullen and Josh Swickard from "General Hospital"
The Bold and the Beautiful
Hope fails to realize that it was Thomas who scared the child, and she confronts Douglas about it. She tells him that she and his father are set to marry right away. Brooke tells Ridge that Liam is Hope's real soulmate. Ridge urges Brooke to keep an open mind. Thomas removes pictures of Caroline from Douglas's room and puts up photos of Hope instead. Eric tells Quinn and Ridge that Xander left Forrester Creations. Hope tells Liam that she's one day away from marrying Thomas, and he urges her to reconsider. Thomas informs his father and grandfather of the wedding plans. Ridge confronts Brooke about her opinion of Hope and Thomas. Steffy reminds Liam to heep his feelings about the wedding to himself. Liam looks back at his best memories with Hope. Thomas warns Ridge to rein Brooke in. Steffy helps the bride prepare for the ceremony, and as everyone gathers for the big event, Hope asks to see Brooke. Brooke begs her not to go through with the wedding. Thomas manipulates Douglas into playing a role in the wedding and argues with Liam about why Hope is running late. Flo gets drunk and tells Zoe there's still time to stop the wedding and tell the truth about little Beth.
Days of Our Lives
The fake Nicole makes a move on Brady. Stefan is shocked. Eli and Lani share some good news with Abe. Xander exacts some revenge on Kristen, and Eric thinks about making a big change. Ted tries to throw Hope off track. Gabi thinks Nicole is behind all Stefan's problems. Brady makes a move to oust Xander from Titan, and Gabi tries to get Kate to come clean. Jennifer gets emotional when she talks to Jack about who he used to be. Ted and Hope kiss. Will makes a surprising discovery, and Jennifer comes to the conclusion that it's time to move on from Jack. Brady is shocked when someone hits on him. Gabi and Xander go head-to-head. Ciara is surprised when she catches her mom kissing Ted.
General Hospital
Lulu asks Sonny for help, and Alexis turns to Finn. Julian wonders if what he's doing will be enough. Curtis checks in with Drew, Lulu is infuriated and Kim and Julian have a heartfelt discussion. Carly wants to hear Josslyn's thoughts. Sonny is very angry with Ava, and Cameron has a surprise for Liz. Sam shocks Jason, and Valentin meets up with Curtis. Sasha makes a declaration. Shiloh is increasingly desperate. Kristina is shaken up. Jason and Drew make good on their promise to Oscar.
The Young and the Restless
Things are finally going smoothly for Devon, and he decides to take the next step with Elena by asking her to move in with him as a real couple instead of just convenience. Elena agrees, and the happy pair begins to make plans for the future. There are sparks that fly between Abby and Nate when they go house hunting together. Their exciting day culminates in a passionate kiss, and Abby asks Nate to go to a Newman family dinner with her. Billy's emotions are heightened when he comes across one of Delia's old dolls while at the Chancellor house. He has trouble shaking the intrusive thoughts and feelings, and ultimately takes the doll home with him, where he dreams of Delia's death. Celeste and Lola bury the hatchet again, but Lola struggles when Celeste decides to move back in. Theo beings to meddle in Kyle and Lola's relationship and hopes to make Lola doubt Kyle. Traci's book is finished, and she gets ready to head back to New York for a meeting with her publisher. Cane suggests that he go with her. Jack feels alone and adrift. Billy suggests that Jack take a trip to Paris to visit Ashley. After being snubbed by Chelsea, Adam tries to get revenge by giving Paul incriminating information.