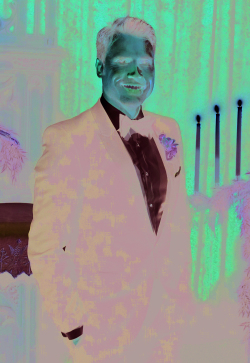 Joshua Morrow as seen in "The Young and the Restless"
The Bold and the Beautiful
Hope continues to be upset by her encounter with Sally and worries that she will never be able to overcome her pain. Katie promises to spend more time with Thorne, and thanks him for being understanding about her spending so much time with Bill and Will. Thorne talks to Kate about his past love, Darla. Liam tells Hope to let people help her. Sally and Wyatt's relationship heats up. Brooke suggests to Hope that she might find comfort in working on her line, "Hope for the Future." Hope snaps at Brooke and asks her to leave her alone. Taylor tells Steffy about a birth mother who is putting her infant up for adoption. Reese tells Flo the truth about Zoe and the thugs. Liam talks to Wyatt about how difficult things are for him and Hope. Flo expresses her concern to Reese about their future. Wyatt is stunned when Liam tells him Steffy is considering adoption, and she asks him to keep it a secret. Hope apologizes to Liam for the way she's been acting lately. Steffy makes an instant connection with the infant. Reese spots the thug at the restaurant where he's having lunch with Zoe. Wyatt tells Liam to let his pain out as he relives the worst night of his life.
Days of Our Lives
Xander and an unexpected partner jump into bed. Victor makes Brady a tempting offer. Gabi asks Kate for a favor. Eric makes a shocking discovery. Eric loses it over Sarah's betrayal. Kayla has bad news about Jack to share with Jennifer. Eve advises Jack to make a bold career move. Xander tries to pull one over on Leo. Jennifer and Eve have a heated confrontation concerning Jack. JJ warns his father about Eve's deception as they forge a bond. Haley treats Tripp at the hospital, and gets to know him better. Ted asks Kate for a second chance. Claire and Tripp make romantic inroads. Haley grows closer to JJ. Chad makes a huge sacrifice for Abigail. Gabi and Stefan declare war on each other. Sarah does her best to make things right with Eric. Jennifer tells Jack that Eve is just using him. Haley shares a secret with JJ. Brady experiences a moment of closeness with Chloe.
General Hospital
Lucy corners Ava, and Kim talks to Liz about her recent troubles. Sam catches up with Alexis. Kim gives Drew a call. Shiloh exudes charm, and Jason puts his own life at risk. Laura provides comfort to Charlotte. Jordan calls Peter in to the station. Carly suffers from a broken heart. Franco bakes cookies with Aiden. Marcus tells his side of the story. Sonny pays his respects. Ava keeps watch at Ryan's side. Franco has a heartfelt discussion with Liz.
The Young and the Restless
Cane asks Devon if he can use his plane to go to Lily and confess. Devon refuses, telling Cane that learning the truth would crush Lily, and he should keep his misdeed to himself. Nikki and Victoria come clean to Nick and Victor about everything, but they leave out Phyllis and Sharon's involvement. Nick and Victor form an alliance, and vow to protect their family. Phyllis calls Sharon and tells her they're on their own and could easily be thrown under the bus. Sharon says she doesn't trust anyone and can only rely on herself. Nikki is stunned when a mysterious stranger comes out of hiding at the Newman Ranch. Phyllis is angry with Billy for borrowing the company jet without permission. Billy tells Phyllis the truth about why he took it, sharing his troubles with Victoria. Phyllis offers insight into Victoria's feelings and encourages him to fight for what he wants. Sharon helps Victoria come to understand she has to work on discovering her own self-worth after putting up with so much abuse from JT.