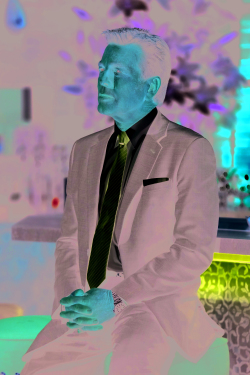 Peter Bergman as seen in "The Young and the Restless"
The Bold and the Beautiful
Wyatt is disappointed that Flo lied. Liam tells Hope that Beth is alive while Thomas pounds on the locked door. Flo's heart is broken, and she tries to help Wyatt see things from her perspective. Steffy tells Ridge about her concerns regarding Liam's story, and Ridge reassures his daughter. Liam and Thomas go head to head in a major showdown that leads to Thomas's confession. Ridge tells Brooke about what Liam believes. Flo is panicked by her breakup with Wyatt, and she confesses to Shauna that Hope and Liam know the truth. When Hope holds Beth, she realizes why she's felt such a strong connection to her all along. Liam and Hope are overjoyed as their family is reunited. Flo wants to confess everything to Brooke, but Shauna wants to cover some things up. Zoe doesn't realize that Flo has told Brooke and Ridge everything about Reese's involvement in the plot, and she tries to make excuses for her father. Flo, Zoe and Shauna are interrogated by Ridge and Brooke, and Brooke vows that they will pay for their crimes. Ridge calls the police on Reese. Someone must tell Steffy that Phoebe is actually Beth. Liam explains everything to Steffy, and is kind and patient with the woman who was another innocent pawn in Reese's scheme. Steffy is stunned, and doesn't want to let her baby go. Wyatt apologizes to Sally.
Days of Our Lives
Gabbi shocks Stefan with some news. Rex tears into Eric about his feelings for Sarah. Ted confronts Tony and Kristen as tragedy strikes. Kate is interrogated by Hope about the kidnapping. Eli agrees to Jack's offer, and Stefan finds himself in an uncomfortable position. Gabi feels guilty, and Kristen is caught re-handed. Sarah and Eric finally confess their feelings for one another. Brady gives in, and Stefan is arrested. Kate sees a familiar face and faints on the spot. Kristen considers whether or not she should tell Brady who she really is. Rex has some angry words for Eric and Sarah. Gabi cannot believe that Stefan is a murderer. Hope uncovers something surprising. Tony tells Kristen their marriage is over, and Anna returns to Salem. Gabi's mixed feelings for Stefan tear her apart. Eric and Sarah commit to each other, and Rex decides it's time for him to leave Salem.
General Hospital
Finn relies on Epiphany, since she's the expert. Alexis gets some very bad news. Julian spends quality time with his son. Shiloh gives Jason a choice as his desperation grows. Drew gives Sonny a call, and Cameron gets a surprise from Joss. Franco shows Scott how grateful he is, and Sasha spills the truth to Maxie. Nina is anxious, and Sam is prickly. Elizabeth receives an alarming telephone call. Robert shares some disappointing news, and Lucas has an update. Peter is in Maxie's corner.
The Young and the Restless
Even though he knows Kyle doesn't like him, Theo continues to try to force a friendship, and insists on throwing him a bachelor party. Kyle refuses the offer, and tells Mariah how frustrated he is. Mariah offers to throw a joint bachelor/bachelorette party for him and Lola instead. Kyle accepts the offer, which upsets Abby, who feels she should be planning the bachelorette party. Abby confuses Nate when she asks him to accompany her to the party. Lola feels happy and grateful, and reaches out to Summer to invite her to the party. Summer asks Theo to be her date, who is more than happy to oblige since he's eager to make trouble for Kyle. Victor's struggles with his illness prompt him to come clean to Summer. Nick vows to take Adam down, and Adam declares that he's up for the challenge. Sharon interrupts the exchange to blame Nick for his treatment of Adam. Billy agrees to go to therapy, but is resistant to the process. Realizing that Billy doesn't want to get better, his therapist calls him out for continuing to punish himself for Delia's death.