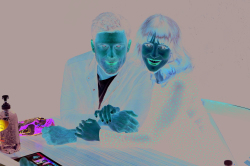 Greg Vaughan and Linsey Godfrey star in "Days of Our Lives"
The Bold and the Beautiful
Brooke rushes in as Thomas begs Hope to believe he's sorry, and in the confusion, Thomas loses his balance and falls off a cliff! After witnessing the fall, Ridge thinks his wife may have murdered his son. Thomas's life hangs in the balance as paramedics work to save him on the way to the hospital. Dollar Bill tells Wyatt and Justin that Flo will pay for what she did to Liam, Steffy and Beth. At the hospital, Ridge is told that Thomas is in dire condition. Brooke tries to explain things to Ridge, but he's convinced she did it on purpose. Bill is upset when Katie tells him about Ridge's suspicions. Ridge goes to Hope and asks her to clear things up. Brooke learns that Thomas wasn't trying to harm Hope at all, and she's devastated about how things played out. Shauna visits Flo in jail. Ridge tells an unconscious Thomas how he feels about him. Shauna goes to Quinn for help. Det. Sanchez visits Flo, and is surprised to learn that she hasn't made bail. Shauna tells Quinn that she knew the truth all along. When Wyatt mentions that he's decided to move on from Flo, Quinn brings up Sally's past. De. Sanchez is determined to uncover the truth about Thomas's fall.
Days of Our Lives
Maggie and Sarah take Xander to task for his lying ways. Brady learns something shocking from Kristen. Tony makes a confession to Anna, and Tony is arrested by Eli and Lani. In a bid to win her freedom, Kristen offers to give up something shocking. Anna tries to convince Tony to use what he knows about Gabi and Stefan as leverage with the police. Xander tells Eric, Maggie and Sarah that Holly is still alive. Gabi and Stefan declare their love for one another. A confrontation between Eric and Kristen gets tense. Kate makes a surprising comment to Gabi and Stefan. Eric tells Sarah about Nicole. Jack is pressured by Eric and Jennifer to make a deal with Kristen. Sarah and Xander have a disagreement about Nicole and Eric. Chloe tells Brady about a life-changing offer she has received. Tripp says goodbye to Salem. Eric and Sarah have a frank conversation. Eli and Lani have a deep conversation with Julie, who later collapses.
General Hospital
Chase interrupts a family gathering, and Finn is shocked by some test results. Nina gets a text that shakes her. Scott worries about Franco, and Kim ignores Elizabeth's calls. Michael and Sonny head for the PCPD. Jason and Monica have a tough conversation. Dustin turns up to lend a hand. Jordan gets a surprise from TJ, and Jax exits gracefully. Valentin asks Curtis to help him with a sensitive problem, and offers him lots of money. Shiloh makes some veiled comments, and Kim goes to Oscar's Meadow.
The Young and the Restless
Chelsea and Adam take off after witnessing an intimate moment between Nick and Sharon. Adam pretends it doesn't bother him, but Chelsea can tell that he's threatened by the friendship, and warns him not to push her away. Later, Chelsea confronts Sharon and accuses her of having lingering feelings for Adam. When he stumbles across Nick, Victor and Christian sharing a nice family moment, Adam keeps Chelsea's warning in mind. Theo tries to win over Mariah by suggesting they work together, and Mariah agrees, but is cautious. They seem to work well together for a time, but neither really trusts the other. Adam hands the Grand Phoenix paperwork over to Abby, who is excited about the next chapter in her life. She and Nate celebrate by spending the night together. Elena begins her residency, and she and Nate begin to grow closer, a fact that she hides from Devon.