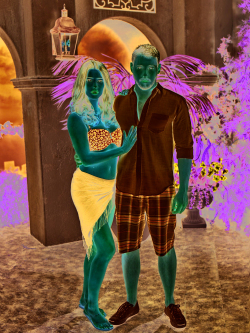 Jacqueline MacInnes Wood and Scott Clifton star in "The Bold and the Beautiful"
The Bold and the Beautiful
Flo begs Hope to forgive her, but realizes that she has no right to do so. Wyatt apologizes to Liam for being involved with Flo while this horrible scandal was unfolding. He also struggles to figure out how he feels about Flo, and where his loyalties lie. Things get heated between Hope and Flo, and the former slaps the latter in a fit of anger. Ridge lets everyone know that Reese is in custody, and Det. Sanchez arrests Flo. Thomas knows the family is angry, and he dodges Ridge's phone calls. Ridge gets even more concerned when Det. Sanchez turns up hoping to question Thomas about the death of Emma Barber. Hope asks Justin to help her annul her marriage to Thomas. Ridge tells Det. Sanchez that he's sure Emma's death was an accident, but is hesitant to reveal anything about Thomas's past. Thomas begins to unravel and yells at a photo of Hope while he threatens Liam. Brooke thinks that Thomas has done much more than Ridge thinks he has. Hope calls Thomas to deliver bad news, and Thomas's rage is kindled. Liam, Hope, Brooke and Ridge are worried about Thomas, and Hope thinks that his abandonment of Douglas is unforgivable. Vinny is shocked to hear the way Thomas talks about his son. Amelia gets a call from Thomas, who wants her to bring Douglas to him. Thomas manipulates Douglas into thinking that Liam is the bad guy. Realizing how angry his father is with him, Douglas fears for his life. When Ridge learns that Douglas told Thomas where Hope is, he and Brooke race to the cliff house to warn her.
Days of Our Lives
Gabi is on to Kristen, and Brady tells Eric that his relationship with Nicole is back on. Kate gets an offer that's hard to refuse. Will and Sonny take a look inside Xander's secret box. Will makes Brady consider the possibility that Kristen could still be alive. After her strange encounter with "Nicole," Marlena tells John what happened. Gabi wonders why Stefan saved her. Trip tells Kayla about his feelings. A surprise guests interrupts John and Marlena's private celebrations. Tony asks for a divorce. Gabi and Stefan finally give in to their true feelings for each other. Roman is reluctant, but goes along with Anna's plan. Kristen is finally exposed, and she desperately pulls a gun on Marlena.
General Hospital
Jason pays Franco a visit. Drew and Curtis take a little trip to Elizabeth's place. Lulu asks Olivia and Robert to join her at Sonny's. Shiloh makes a proposal that involves an exchange. Kim sits down with Monica and has a real heart-to-heart talk. Obrecht turns to Maxie for help. Sonny must deal with a complication at the warehouse. Ava has a dream that leaves her reeling with more unanswered questions. Kim looks to her past for comfort. Curtis picks up on some clues and finds a lead. Kevin wants what's best for Ava. Franco looks for Kim. Ava has a terrible night, and Jax comes to Hayden's defense. Cam gets all swept up in Trina's enthusiasm.
The Young and the Restless
Kyle and Lola's wedding day finally comes. Lola gets ready with Mariah, Tessa and Abby, while Kyle ignores all Theo's texts and calls. Ashley and Traci manage to talk Kyle down when he gets cold feet. Summer decides to go to the wedding to show support for Kyle, and asks Phillis to accompany her. Billy struggles to keep his emotions in check at the wedding, but the idea that Delia will never get to enjoy a similar wedding overwhelms him. He excuses himself as he loses control of his feelings, and tells Victoria he must go home to rest. Later, Billy witnesses a conversation between Adam and Michael, and asks Michael point blank whether he and Adam are in cahoots. When Victoria returns home, she wakes Billy up and tells him she's been out looking for him. Billy has no idea where he's been, and no memory of the incident with Michael. Theo makes a play for Mariah's job, but Devon remains loyal to his friend and shuts Theo down. Phyllis makes a pitch to Chelsea. Victor overhears Phyllis's plans to give Abby the boot, and warns his daughter immediately.