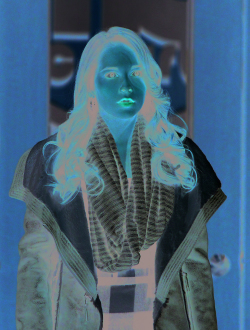 Haley Pullos as seen in "General Hospital"
The Bold and the Beautiful
Wyatt tells Sally about Flo's deceit, and makes a heartfelt apology. Steffy has a hard time digesting the fact that Phoebe is going to be taken away from her. Ridge and Brooke both have strong emotions, but they conflict with one another: Ridge is devastated for Steffy, and Brooke is elated for Hope. In the blissful euphoria of her family reunion, Hope confesses to Liam that she never stopped loving him. Thomas is completely delusional, and he tries hard to convince himself that he can win Hope back. The Logan women unite to profess their love for the newest Logan: Beth. Bill holds Beth for the first time, and he and Liam share a touching father-son moment. When Zoe and Xander face Brooke and Ridge, they must suffer the consequences of their lies. Shauna and Flo take a big chance by sneaking into Brooke's cabin to try to tell their side of the story to Hope. Shauna goes toe to toe with Brooke, Katie and Donna, while Hope lashes out at Flo.
Days of Our Lives
John comes up with a plan to surprise Marlena. Meanwhile, Marlena makes plans to surprise John! Chloe sends Marlena to talk to the fake Nicole. Anna and Tony come face to face, while Stefan asks if Ben will investigate Ted's murder. Anna confronts Tony about marrying Nicole. Eric and Sarah get intimate. Hope goes to John for help investigating Ted's murder. Eve takes on Jack, and begs Justin to represent her. Jack confronts Jennifer about an article she wrote about him, and Haley has a medical emergency. Julie freezes out Eli and Lani, which throws them for a loop. Ben and Ciara work together to find evidence against Nicole, while John and Hope try to squeeze info from Xander. Marlena and Tony reunite, and Anna makes a surprising announcement. Xander makes a deal with John and Hope. Ben and Ciara catch Kate as she tries to make a deal with the devil. Roman finds himself mixed up in Anna's scheme.
General Hospital
Kevin has a discussion with Alexis about Neil. Lucy meets up with Julian and Kim, and Laura offers some reassurance. Ava is surprised, and Laura makes a phone call. Nina has a vulnerable moment, and Jax walks in on it. Sam and Jason get a much-needed rest at home. Elizabeth divulges everything she knows to Franco. Julian and Lucas have a conversation that gets emotional. Brad asks Julian if he'll reconsider, and Drew and Elizabeth are shocked. Willow catches a glimpse of another side of Chase. Monica searches for Kim, while Hayden responds to Finn.
The Young and the Restless
Jack has a heart-to-heart talk with Lola, and offers to fly to Miami himself to urge Celeste to go to her daugter's wedding. Though Phyllis has made many attempts to secure funding for the Grand Phoenix, Adam does his best to sabotage her efforts, and offers the hotel to Devon instead. Victoria postpones Adam's visit with Christian, telling Adam that Christian is sick in bed. He realizes she lied to him when he spots Christian at the park with Nick. He impulsively approaches Christian, but the boy is freaked out and runs away. Elena is surprised when Nate tells her that there's a residency position available at Memorial. Summer tries to get to the bottom of the secret Theo and Kyle are keeping. When Theo confesses his strong desire for revenge, Summer questions how well she really knows him.