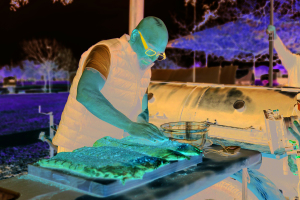 Chef Michael Symon in "BBQ USA"
From "Iron Chef" to "BBQ Brawl" and "Throwdown," Food Network star/restaurant owner Michael Symon knows what it takes to stand out in a culinary competition. But in his newest series, Symon won't be the one competing; instead, he'll be watching all the action unfold, just like viewers at home.
"BBQ USA" begins its inaugural weekly run Monday, July 11, on Food Network and discovery , and as you'd expect from the title, the show offers a behind-the-scenes look at the biggest, toughest barbecue competitions held across the country.
In each of its six one-hour episodes, Symon travels to a different stop on the competition barbecue circuit to catch up with teams of grilling experts and pitmasters honing their craft to prove they're the best in 'cue. You probably won't want to watch on an empty stomach, either, since Symon isn't just talking about barbecue. He's also sampling everything on camera, from smoked brisket to fall-off-the-bone ribs.
"Having the chance to travel the country and watch these 'cue stars compete on the grandest barbecue stage was a dream come true," Symon said in a statement. "I love a good, old-fashioned culinary showdown. It doesn't matter if it's pork, chicken or ribs, there is nothing better than getting over the grill or smoker in the summertime to show off your skills while interacting with the dedicated fan base that brings these barbecue contests to life."
In Tifton, Georgia, Symon attends the Rhythm & Ribs BBQ Festival, where longtime friends/rivals The Rescue Smokers and Off The Chain BBQ battle it out for top scores, awards and bragging rights alongside newcomers Pete's Pit and Atomic City Smokers. In another episode, Symon visits the Lone Star State for Cedar Fest, where a Missouri-based team, Gettin' Basted, is hoping to beat the locals at their own brisket game.
Other episodes include stops in Alabama, Kansas and New Jersey, and you can be sure Symon attended the biggest event, Memphis's May World Championship Barbecue Cooking Contest, where legends such as Melissa Cookston and Myron Mixon (the winningest man in barbecue) defend their titles.
It all begins Monday, July 11, with the Food Network premiere of "BBQ USA." Episodes are also available to stream weekly on discovery .