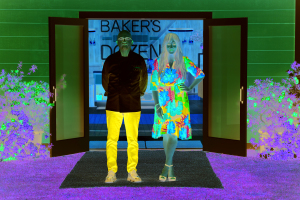 Bill Yosses and Tamera Mowry-Housley from "Baker's Dozen"
Shows like "The Great British Bake Off" and Food Network's Baking Championship franchise have proven that one should never underestimate the skills of an amateur baker -- well, except those appearing in "Nailed It!" (but that's the whole point).
Now Hulu, home of "Taste the Nation with Padma Lakshmi," is rolling out a sweet new competitive baking series, and it, too, promises to make a star out of a baker, regardless of their amateur/professional status outside the kitchen.
Premiering Thursday, Oct. 7, "Baker's Dozen" is a fast-paced, unscripted competition series that pits 13 (hence the title) home-taught and professional bakers against each other in a series of weekly baking challenges.
The inaugural season consists of eight episodes. In each one, the competitors will pull out all the stops in hopes of becoming the next viral baking sensation and the winner of the Golden Rolling Pin (there's a cash prize, too).
Fresh off her appearance in "The Masked Singer," actress/talk show host Tamera Mowry-Housley of "Sister, Sister" and "The Real" fame is the enthusiastic co-host of "Baker's Dozen." She stands alongside author/pastry chef (and pie master) Bill Yosses, who served as White House executive pastry chef from 2007 to 2014.
In addition to Mowry-Housley and Yosses, a guest judge will appear in each episode to help critique the baked goods. The guest judges include award-winning cake artist Joshua John Russell, TikTok baking star Robert Lucas, macaron master Leanne Pietrasinski, cake artist Rachel Teufel, writer and Instagram pie sensation Lauren Ko, Irish baker Gemma Stafford, Teri Cellutto and pastry chef Loria Stern.
Each episode is a self-contained competition (kind of like "Nailed It!"), so you can jump in at any point. At the start of every episode, viewers are introduced to a fresh baker's dozen of contestants, and by the second challenge the field is whittled down to just five bakers -- but only the Top Three advance to the final round.
In the first episode, the contestants are challenged to decorate cake pop bouquets. The five best bakers will move on to Round Two, in which they'll have to create their best delight dessert (think layers of pudding) and mashup dessert if they want to impress the judges.
Who will win? "Baker's Dozen" is available for streaming on Hulu beginning Oct. 7.