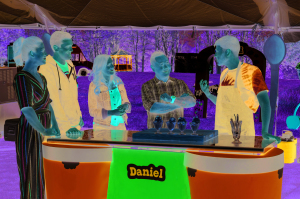 Molly Yeh, Chris Rivard and Ali and Jet Tila sample a competitor's dish in "Ben & Jerry's Clash of the Cones"
Chocolate and vanilla continue to reign supreme as America's favorite ice cream flavors, though strawberry, mint chocolate chip and butter pecan deserve honorable mentions. But when you're talking about Ben & Jerry's ice cream, Cherry Garcia and Half Baked are the ones to beat: they've consistently topped the annual list of the company's best sellers, while other flavors have come and gone, each laid to rest in the Ben & Jerry's Flavor Graveyard.
Beginning this week, six ice cream masters from across the country will be doing everything they can to ensure their creations won't end up in that infamous graveyard. These frozen treat creators have been hand-picked to participate in "Ben & Jerry's: Clash of the Cones," a new competition that challenges them to create an original Ben & Jerry's flavor of their own. The limited series kicks off with a special 90-minute episode premiering Monday, Aug. 16, on both Food Network and discovery .
There are just four episodes to this series, which is hosted by "Girl Meets Farm's" Molly Yeh. In each one, the ice cream makers must come up with a new and innovative ice cream flavor that captures the essence of the celebrity guest(s), who is/are on-hand to give the competitors some direction. Celebrities include Chris "Ludacris" Bridges ("Luda Can't Cook"), dueling cake masters Duff Goldman and Buddy Valastro ("Buddy vs. Duff"), and actor Kevin Bacon ("Footloose," 1984) — cue the bacon puns!
The action takes place in a specially constructed ice cream lab in Waterbury, Vermont, home of the first Ben & Jerry's factory. Once they've whipped up their creations, the makers must then hit the streets and the public gets to vote on their favorite flavor.
The winner gets immunity, while judges Jet and Ali Tila ("The Best Thing I Ever Ate"), as well as Ben & Jerry's Flavor Guru Chris Rivard, must decide who will be sent home and which flavor will be relegated to -- you guessed it -- the Graveyard. (The Waterbury factory has an actual graveyard with headstones for the discontinued flavors.)
So what does the winner get? A grand prize of $20,000, which happens to be the same amount co-founders Ben Cohen and Jerry Greenfield hoped to make in 1978, the year they opened their first ice cream parlor in Burlington, Vermont.
It all begins on Monday, Aug. 16, with the supersized premiere of "Ben & Jerry's: Clash of the Cones," only on Food Network and discovery .