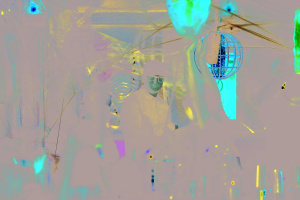 Zak Bagans, seen here in "Ghost Adventures," hosts "Halloween Wars"
It's been nearly 10 years since viewers first caught a glimpse of "Halloween Wars" (the show premiered on Oct. 2, 2011, to be exact). Since then, it has emerged as one of the most-watched food shows on TV and the most popular non-Christmas seasonal competition on Food Network.
Happily, the fan favorite returns this week for an 11th season, beginning Sunday, Sept. 19, on Food Network and discovery . And as in years past, you can expect to see lots of creepy cakes and creative treats that look (and probably taste) scary good.
Eight new teams of talented cake competitors and sugar artists will be introduced in this week's episode, but the latest installment also features a new face: that of paranormal investigator Zak Bagans.
Bagans, of course, is most famously known as the host of "Ghost Adventures" and "Deadly Possessions" on sister network Travel Channel.
In 2017, he opened the Haunted Museum in Las Vegas, where the spooky artifacts on display will provide the inspiration for an upcoming discovery anthology series. Those same relics, along with all the scary supernatural encounters Bagans has chronicled and investigated over the past 15 years, are also inspiring the various challenges in this new season of "Halloween Wars."
Despite their imaginative takes on the different themes and impressive Halloween cake displays, one team will be eliminated each week.
Pastry chef Shinmin Li ("Best Baker in America") joins popular Food Network personalities (and "Food Network Star" winners) Aarti Sequeria and Eddie Jackson on the judges panel. They're the ones who'll award the $25,000 grand prize to the winning team in the Oct. 31 finale (yes, on Halloween night).
The competition begins on Sunday, Sept. 19, but before you cut into a new season of "Halloween Wars," Food Network wants to ease you into the action with the one-hour special "Road to Halloween Wars."
This behind-the-scenes glimpse allows viewers to see how this year's competitors were selected as the 15 cake and sugar artist hopefuls show off their skills in the hopes of landing a spot in the televised competition.