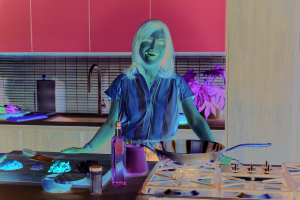 Vilailuck "Pepper" Teigen from "Getting Spicy With Pepper Teigen"
Families play a big role in shaping a child's food preferences and establishing good eating habits that are carried into adulthood. So it's no surprise that many famous chefs, celebrity or otherwise, often credit their mothers for their culinary success.
One celebrity's mom is getting her time in the spotlight this month. "Getting Spicy with Pepper Teigen" premiered on Food Network on Saturday, Nov. 6, and now lands on discovery , where it can be streamed at your leisure.
Food Network touts "Getting Spicy with Pepper Teigen" as a food special that "showcases the Teigen family as they've never been seen before, with an inside look at the way they cook and eat."
Pepper, whose real name is Vilailuck, is the mother of model/TV personality/entrepreneur Chrissy Teigen; she's also the co-author of the New York Times bestselling cookbook "The Pepper Thai Cookbook," an 80-recipe collection that hit bookstores earlier this year. Those two claims to fame are combined in this half-hour TV special, which was executive produced by daughter Chrissy through her production company, Huntley Productions.
The Thailand-born cookbook-author-turned-TV-star has always had a passion for creating family meals influenced by the flavors of home, and that's what you get from "Getting Spicy."
While grandchildren Pasha, Luna and Miles are away on a playdate, Pepper and her eldest daughter, Tina, reminisce while preparing a family feast that is heavy on deliciously sweet-and-sour and spicy flavors.
First up is a tomato, bacon and corn salad with a spicy twist, then it's shrimp lettuce wraps, a Teigen family favorite that has been affectionately dubbed "Thai Tacos." Pepper then presents her own take on chicken larb (a refreshing chicken salad) by incorporating her guilty pleasure, fried chicken. (It truly becomes a family affair once the grandkids return just in time to help Pepper prepare pineapple soft serve for dessert.)
"Getting Spicy with Pepper Teigen" is available to stream on discovery and fans can also find the full recipes online at FoodNetwork.com/GettingSpicy.