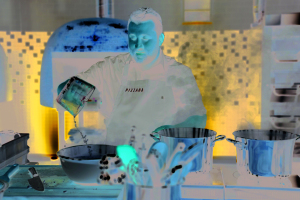 Daniele Uditi in "Best in Dough"
After years of food competitions aimed at creating a top-notch artisanal dining experience, streamers are finally focusing on a humbler food item that seems to be universally loved: pizza.
Hulu debuts its newest cooking competition series, "Best in Dough," this week, and pizza lovers/food fans won't want to watch this one on an empty stomach. Three 30-minute episodes see top pizza-slingers battle it out for a $10,000 prize beginning Monday, Sep. 19, before three more episodes drop next week (Sept. 26) and the final four on Oct. 3.
"Best in Dough" is hosted by "The Bachelorette" star Wells Adams, who is no longer a bachelor after marrying "Modern Family" star Sarah Hyland last month. Winners will be selected by head judge and chef Daniele Uditi ("The Chef Show") as well as chef Millie Peartree ("Chopped"), baker Bryan Ford ("The Artisan's Kitchen") and comedian/influencer Eunji Kim ("Bong Zombies").
If you've seen Jon Stewart's Chicago pizza rant from his "Daily Show" days, you'll know that people have strong feelings about their preferred pizza style, from classic Neapolitan to the square and crunchy Detroit style or the foldable New York slices seen in the opening scene of "Saturday Night Fever" (1977). Viewers are likely to see them all in "Best in Dough."
The Hulu competition isn't the only pizza-themed show to hit the airwaves this month, however. Netflix rolled out its latest installment of "Chef's Table" Wednesday, Sept. 7, featuring six 45-minute episodes exclusively devoted to pizza.
Now available for streaming, "Chef's Table: Pizza" marks the series' return after a two-year break.
Why pizza? In an interview with Entertainment Weekly, executive producer Brian McGinn explained: "Pizza is sort of the ultimate canvas. You roll out some dough and then whatever you put on top and how you make it — that can be a perfect way of expressing who you are. And in a lot of ways, that's what 'Chef's Table' is about: people finding their voices, finding a way to express themselves, to express their cultures."
Check out "Chef's Table: Pizza" on Netflix now and don't miss "Best in Dough" when it premieres Monday, Sept. 19, on Hulu.