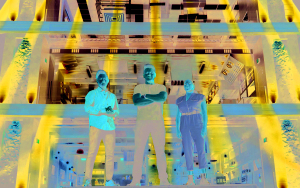 Mentors Richard Blais, Gordon Ramsay and Nyesha Arrington star in "Next Level Chef"
With the new year comes the newest addition to Gordon Ramsay's ever-growing TV portfolio, but similar to Food Network's "Chopped," this cooking competition promises to be just as much — or even more so — about making do with what you have as it is about proper culinary technique (although that helps).
Premiering Sunday, Jan. 2, on Fox, "Next Level Chef" takes the culinary competition format to a whole new level — or rather three different levels as the contest takes place on a multilevel set that is three stories high. Chefs on the top floor get to work in a state-of-the-art kitchen and have their pick of the best ingredients, while those on the lowest level contend with more challenging ingredients (processed meat was mentioned in a first-look trailer) while working in a no-frills, basement environment.
The concept is said to have been inspired by Ramsay's own journey from washing dishes at a takeout restaurant to his current position at the top of the culinary (and culinary TV) world. It also reflects his belief that "the true test of a great chef is not only what they can do in the best of circumstances, but what kind of magic they can create in the worst."
This isn't a competition between the pros, necessarily, although there are a few professional chefs competing. The show recruited 15 contestants from various backgrounds: line cooks, home chefs, social media stars, food truck operators and more. Regardless of skill level, they'll all have to demonstrate versatility and a willingness to prove themselves in this fast-paced, elimination-style competition. The ultimate winner will be hailed as the next food superstar (henceforth known as the Next Level Chef) and awarded the $250,000 grand prize.
Throughout the competition, Ramsay is joined by chefs/restaurateurs Nyesha Arrington and Richard Blais. These three co-mentors will each work with a group of chefs and help them through the challenges that require them to get creative.
"This is the next evolution in cooking competitions," Ramsay said last spring when "Next Level Chef" was first announced. "It's big and it's bold, and I can't wait for people to see it."
The wait is over: Don't miss the Jan. 2 premiere of Fox's "Next Level Chef" before it moves into its regular Wednesday night time-slot on Jan. 5.