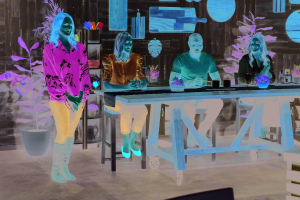 Ree Drummond, Catherine McCord, Eddie Jackson and Damaris Phillips in "Big, Bad Budget Battle"
The cost of groceries keeps rising, and for many households, it's getting harder to stretch the food budget. For this reason, it's refreshingly relatable to see competitors on a cooking competition working with limited resources — as do many viewers at home.
"Big Bad Budget Battle," which debuted last week on Food Network and discovery , is a competitive food show that rewards both thrifty shoppers and resourceful home cooks. In each of the six hour-long episodes, three home cooks are given a small stash of cash and are challenged to shop on a budget in what Food Network calls "the ultimate grocery store": Flavortown Market.
Sharing a 15,500-square-foot set with "Guy's Grocery Games" isn't a coincidence: "Big Bad Budget Battle" is produced by Guy Fieri via his Knuckle Sandwich production company. And despite being a TV set, Flavortown Market is fully stocked with real food items (even fresh fish), so the "Big Bad Budget Battle" contestants will have thousands of items at their disposal — it just depends on what their budget allows.
What are they doing with that budget? They'll use the money to buy all the ingredients needed for a deliciously inexpensive dish, depending on the theme or challenge. In this week's new episode (Aug. 16), the home cooks are tasked with reimagining leftovers — first by whipping up an inviting breakfast, then by creating a new supper sensation.
The six-episode series is hosted by "The Pioneer Woman's" Ree Drummond, who, in a prepared statement, applauded the concept.
"I can't wait for viewers to see these awesome home cooks in action, both with their creativity in the kitchen and their budget-shopping skills — they are truly something to behold," Drummond said. "As a home cook myself, I'm impressed by their resourcefulness and ingenuity as they plan, shop and prepare their incredible dishes."
Drummond is joined by a panel of rotating judges, including Darnell Ferguson ("Tiny Food Fight"), Eddie Jackson ("Yum and Yummer"), Beau MacMillan ("Worst Cooks in America"), Catherine McCord ("Guy's Grocery Games"), Damaris Phillips ("Southern and Hungry") and Justin Warner ("Food Network Star"). Together, they'll select a winner (one per episode) and that resourceful cook wins a year's worth of groceries.
A new episode of "Big Bad Budget Battle" airs each Tuesday on Food Network and streams on discovery .