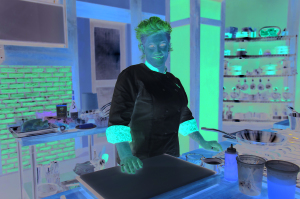 Anne Burrell hosts another season of "Worst Cooks in America"
In case you missed it, a new season of "Worst Cooks in America" kicked off Wednesday, Dec. 29 on discovery , and the culinary boot camp has become something of a new year tradition in the U.S. iteration of Food Network.
A few seasons have premiered at other times of the year — celebrity editions tend to be a spring or summer thing — but the cable channel likes to kick off the new year with a bang, ratings-wise, and it doesn't get much bigger than "Worst Cooks." The show reached more than seven million viewers in 2021, making it one of the network's top five programs of the year.
We're now into Season 24, which features the first-time pairing of perennial "Worst Cooks" star Anne Burrell with chef Cliff Crooks, whose own series "Chef Boot Camp" was renewed for a second season (expect that to be released sometime later this year).
The super-sized season opener introduced 12 recruits, each of whom whipped up a loved one's favourite dish as part of the skills assessment round.
In the Jan. 12 episode, boot camp transforms into a gladiator-style arena to test the contestants' stamina, speed and palate. In the skill drill challenge, they'll learn how to make a proper falafel platter before the main dish, a flavour-packed chicken adobo.
There's lots more to come as the competition continues, but it's interesting to note that Season 24 of "Worst Cooks" was announced at the same time as Burrell's new deal. It seems 2021 was a big year for contract renegotiations and extensions among Food Network stars, and Burrell was among the latest to make headlines with an exclusive multi-year deal guaranteeing at least two more cycles of "Worst Cooks."
At the time, Burrell was quoted as saying, "I am super excited to announce my multi-year deal with Food Network, which has been my extended family for almost two decades. I have the greatest time hosting 'Worst Cooks in America' and look forward to teaching our contestants and viewers on this show, as well as other series, how to cook like rock stars."
We'll just have to wait and see what Burrell will do next -- aside from more "Worst Cooks in America," which can currently be found on discovery with a streamng subscription.