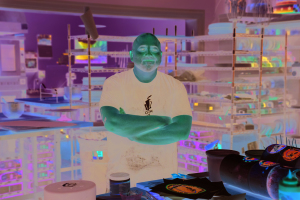 Duff Goldman hosts "Duff: Ace of Taste"
Food Network's Duff Goldman wants you to know that he isn't just a sweet guy — he also has a savoury side, too. The culinary figure, best known for his cake-related fare on the Discovery-owned network (think "Ace of Cakes," "Buddy vs. Duff" and "Kids Baking Championship"), is welcoming viewers into the kitchen for a different type of food experience: dinner.
For those who missed its premiere last week (April 24), "Duff: Ace of Taste" continues Sunday, May 1, on Food Network, and it's not too late to tune in. As each episode is a stand-alone kitchen experience, food fans can join him at any and every stage of the show.
As both a husband and new father in addition to being a classically trained chef, Goldman prides himself on being able to share the food he makes (and the food he loves) with those around him. Whether making adorable finger foods for his daughter Josephine's first-ever tea party or creating a whopper of a cheeseburger on a pate-a-choux bun for the other members of his band, Goldman thrives when providing food for the community around him.
And while he's still dishing out desserts in true Goldman fashion throughout the series, the cake icon is delighted to be expanding his on-screen brand — though he doesn't intend to lose his signature science-y style.
"Cooking savoury foods can be just as creative and surprising as baking and pastry," Goldman said in a Food Network news release. "Audiences have seen me break down baking science into plain English on the Baking Championships [franchise], and that is exactly what I do with cooking on 'Duff: Ace of Taste' — and the food is super good! Now, instead of just eating food and telling you what I think about a dish, I actually get to show you how I like to make it."
While the premiere focused on a firehouse-style Texas chili with cornbread and a comforting peach cobbler with no-churn ice cream for dessert, the May 1 episode zeroes in on some tried-and-true favourites for a neighbourhood bake sale, including brown butter blondies, green-and-white cookies, buttery tricolour bull's-eye spritz cookies and syrupy topanga honey baklava.
Don't miss another minute of savoury-sweet entertainment — "Duff: Ace of Taste" airs its second episode Sunday, May 1, on Food Network.