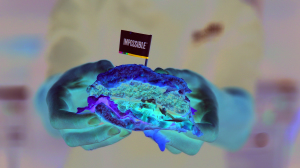 A burger from "The Messy History of American Food"
Chicken wings can make for messy eating, but most of us don't seem to mind. According to the National Chicken Council's 2022 Wing Report, Americans likely consumed about 1.42 billion wings during Super Bowl LVI alone.
We think of chicken wings as a classic finger food, but, surprisingly, this bar/pub staple has only been around for a little over half a century. And like many other fast-food favorites, its creation was the result of a happy accident — the kind that's become fodder for a new discovery food docuseries.
"The Messy History of American Food" wraps Wednesday, May 25, in the same way it began: with a double serving of episodes landing on Food Network and discovery .
Since the series' debut on May 11, "The Messy History of American Food" has been diving "mouth first" into the fascinating history of American foods and food culture. It follows the tried-and-true formula of mixing expert commentary with fun facts and original footage, resulting in what Discovery, Inc., has described as "a wild ride that's hilarious, surprising and educational."
Those first two episodes focused on the origin story of cereal and the "messy" history of burgers, with the premiere including a stop at the Cereal Capital of the World — Battle Creek, Michigan — where a digestive aid for spa patrons revolutionized our mornings. Two more episodes landed on the network and streamer May 18, with one delving into the history of soda beverages, and the other, bread.
The first of the last two episodes airing Wednesday, May 25, brings viewers the story of the 1964 invention of the mighty chicken wing in Buffalo, New York. What began as a "making lemonade out of lemons" situation quickly turned into a food phenomenon; today, you'll find countless flavor combinations, including even chocolate Buffalo chicken wings, on menus around the world.
That unconventional culinary combination leads audiences to the big finale, in which "The Messy History of American Food" shines the spotlight on the equally complicated (but much longer) history of chocolate.
Tune in to Food Network on May 25 or catch up on discovery .