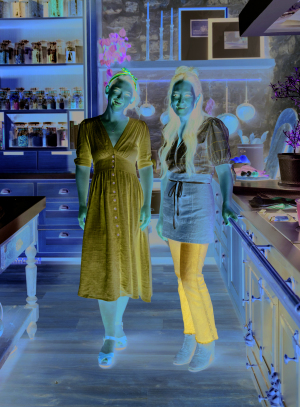 Molly Yeh and Joanna Gaines in "Molly Yeh's Magnolia Adventure"
From home décor to publishing and now multiplatform media, HGTV stars Chip and Joanna Gaines have expanded their Magnolia lifestyle brand in a big way. And it seems their joint venture with Discovery, Magnolia Network (and app), has opened the door for some unique cross-promotional opportunities and crossovers (can you say "synergy"?), with the latest special airing this week.
On Sunday, Oct. 24, viewers tuning in to Food Network will be treated to "Molly Yeh's Magnolia Adventure" instead of back-to-back episodes of "Girl Meets Farm." The special also streams the same day on discovery .
In the one-hour special, Molly Yeh and her husband, Nick Hagen, leave the Midwest behind and head south to experience some Southern hospitality, Gaines style. Viewers follow Yeh on her whirlwind "home and food" themed tour of Waco, Texas, where the TV cook checks out some of the top food spots and learns the secret to Southern fried chicken.
Of course, Waco is the Gaines' hometown. It just so happens that Yeh is on the lookout for some design inspiration -- and that leads to a meeting with Joanna Gaines.
While in Waco, Yeh tours the Gaines' Magnolia Market at the Silos, and Yeh and Gaines will discuss their shared passion for food while touring the renovated flour mill where "Magnolia Table With Joanna Gaines" is filmed.
"We knew bringing together two beloved and popular experts like Molly and Joanna, each with her own loyal following, would be an exciting offering for their collective fanbase," Courtney White, president of Food Network, explained in a statement.
Another "Fixer Upper" star, carpenter Clint Harp, will join the pair and offer some inspiration for a new custom wood piece destined for Yeh's kitchen.
At the time this special was filmed, Yeh and Hagen were renovating their Midwestern farmhouse, which previously belonged to his grandmother. Yeh was hoping to add a custom pegboard, Julia Child-style (Yeh cites Child as her culinary icon), and it seems Clint is helping to make that a reality.
Follow Yeh's creative journey when "Molly Yeh's Magnolia Adventure" premieres Sunday, Oct. 24, on Food Network and discovery . And if you do find yourself missing "Girl Meets Farm," don't worry -- a new episode will air next Sunday, Oct. 31.