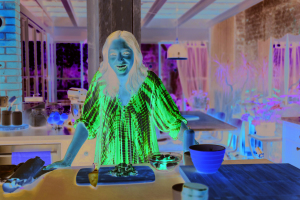 Samantha Seneviratne from "Everyday Cooking"
Joanna Gaines described last year's Magnolia Network programming as "real people doing real things." Since then, the lifestyle channel has launched on linear TV as a rebrand of DIY Network and focused its attention on growing its inaugural slate.
Magnolia Network has been steadily rolling out new original series featuring "real people" ever since, and just last month, Magnolia (through parent company Discovery) announced seven newly ordered series — and six others being renewed — to expand its fall 2022 lineup.
The latest original series is "Everyday Cooking," premiering Sunday, Oct. 30, on both Magnolia Network and discovery . In each of the 10 half-hour episodes, cookbook author Samantha Seneviratne reveals that, even on your busiest days, every home-cooked meal can still be easy, exciting and full of flavor.
A Brooklyn-based veteran of the food scene and author of the "Love, Cake" blog, Seneviratne is a New York Times and Food52 contributor. You might recognize Seneviratne from her appearances in "The Kitchen" or as the host of the web series "Unchoppable" for Food Network and "Cook and a Half" for Food52.
Seneviratne started out as a food editor at "Good Housekeeping" before becoming a food stylist for "Fine Cooking," and later worked for Martha Stewart's "Everyday Food" as a recipe developer. She has since authored three cookbooks: "Gluten-Free for Good," "The New Sugar and Spice" (nominated for a 2016 James Beard Award) and "The Joys of Baking: Recipes and Stories for a Sweet Life," named one of the best baking cookbooks of 2019 by the New York Times.
A quick glance at Seneviratne's website (samanthaseneviratne.com) gives you a visual taste of the recipes she's contributed over the years, as well as the kind you might see in "Everyday Cooking." Sure, there are tons of picture-perfect desserts in there and on her "Love, Cake" blog, but you'll find plenty of easy meal recipes, too, such as the one for caramelized onion pasta featured on Epicurious.
And as a mom to a young child, Seneviratne has firsthand knowledge as to the challenges and pressures home cooks face on busy weeknights, so this will likely be reflected in the recipes presented in "Everyday Cooking."
The new series debuts Sunday, Oct. 30, on Magnolia and discovery .