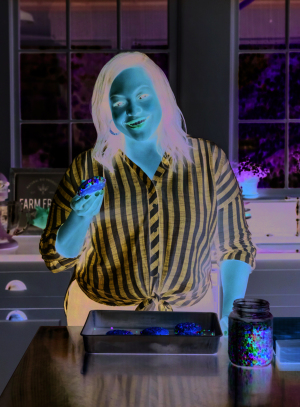 Kardea Brown from "Delicious Miss Brown"
Kardea Brown recently took to Instagram to tell fans about the fifth season of "Delicious Miss Brown," saying, "I think this will be my best season yet. Hands down, the production, the recipes, the lighting … We changed it up a bit and I promise you'll love the new changes." The new season kicked off last week (Aug. 29) on Food Network.
Continuing this week, the Sunday daytime programming lineup is serving up back-to-back episodes of "Delicious Miss Brown," with a new half-hour episode followed by an encore from a previous season. And these Season 5 episodes are perfectly timed to deliver special themes and recipes that will help us wrap up summer and ease into fall.
Whereas the season premiere was an end-of-summer celebration (it was even the episode title), the new episode airing on the network on Sunday, Sept. 5, will feature some easy recipes you can make while basking in that end-of-summer heat.
Too hot to use the oven? Brown whips up a few dishes that'll keep your kitchen cool, such as easy shrimp kabobs with garlic sauce, and, as a side, pasta salad with squash, feta and a sundried tomato vinaigrette.
Sure, salads are a great way to beat the heat, but so is watermelon — and Brown's watermelon salad delivers that perfect combination of cool and crisp. And who can resist some creamy orange push pops? It's a refreshing treat you can enjoy while you're soaking up that sunshine.
Like it or not, though, "pumpkin spice" season is upon us, and if your fall chores include a complete fridge cleanup, you'll probably want to tune in again next Sunday.
In the Sept. 12 episode of "Delicious Miss Brown," Brown offers up a few ideas for using up those random items that are languishing in your refrigerator, such as a cheesy lasagna dip made with leftover meats and cheese.
In future episodes, Brown heads to Atlanta to spend time in the kitchen (and at the grill) with her mom. And given that the NFL regular season kicks off this week, expect one episode to be dedicated to creating a finger-licking game-day menu, complete with oven-roasted Carolina barbecued chicken wings and turkey sliders with onion jam.