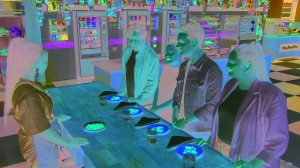 Hari Kondabolu, Helen Park, Ali Bouzari and Megan Stalter from "Snack vs. Chef"
Have you ever paused mid-snack, looked at your brand-name treat and wondered if you could make a homemade version?
From snack cakes to candy bars, many of the most iconic store-bought treats can be replicated (or closely imitated) at home, if you're willing to experiment in the kitchen. Spend a little time online and you'll likely find a copycat recipe, but some people relish the challenge of cracking the code themselves — and those people would fare well in Netflix's newest competition series.
"Snack vs. Chef" premieres Wednesday, Nov. 30, on Netflix. In this new food competition, 12 chefs are invited to "channel their inner food scientists" (according to the streamer), as they "go head-to-head in the ultimate snack showdown."
In each episode, the competitors must re-create some of the world's most famous snacks, whether they're savory, sweet, salty or sour. They'll also be tasked with inventing their own original snacks inspired by the classics.
The new series is hosted by Megan Stalter and Hari Kondabolu. A podcast host and writer for "Totally Biased with W. Kamau Bell," Kondabolu is known for witty social and political commentary, as seen in his Netflix stand-up special "Warn Your Relatives." He also hosted and produced the 2017 documentary "The Problem With Apu."
As for Stalter, you might recognize the comedian from her breakout role as scene-stealing assistant Kayla in HBO Max's "Hacks," or maybe you know her from her improvised one-woman character sketches that were a viral sensation during the pandemic. No matter how you slice it, Stalter is a rising comic with several other projects in the works, including an upcoming film role in "Cora Bora" and a comedy pilot, "Church Girls," in development at HBO Max (and co-produced by A24).
These two comedians specialize in satire, but as is the tone in other Netflix food competitions, Stalter and Kondabolu will likely keep things light to ensure the focus remains on the cooked, baked and fried (re-)creations that make Netflix's "Snack vs. Chef" a truly binge-worthy experience.
Unwrap the streaming snack when it premieres Wednesday, Nov. 30.