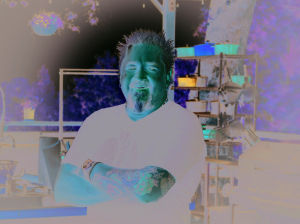 Guy Fieri hosts "Guy: Hawaiian Style"
Flavortown is a state of mind, but this week Guy Fieri and fans will surely have the Aloha State on their minds.
The Food Network host and mayor of said Flavortown has a "tropical" mini-series landing on discovery this Saturday, Aug. 28. Part family vacation, part Triple D reunion tour, "Guy: Hawaiian Style" follows Fieri and his family across the Hawaiian Islands as they experience island adventures and sample all the foods and food traditions that keep Fieri coming back for more.
An avowed fan of Hawaiian food, Fieri has already highlighted more than three dozen Hawaiian restaurants in "Diners, Drive-Ins and Dives," and it's clear from the four episodes of "Guy: Hawaiian Style" that Maui, Oahu and the Big Island hold a special place in his heart.
In a news release, Food Network president Courtney White was quoted as saying: "Guy takes 'Hawaiian vacation' to the next level as he hits the road less traveled, from excursions inside a volcano to swimming with manta rays after dark. The epic action, punctuated by the beauty and varied terrain of Hawaii, makes it a ride viewers won't want to miss."
Swimming with manta rays at night? Clearly, this isn't your typical Hawaiian vacation.
"If Hawaii offers it, we try it," Fieri said. "We do it all, from land to sea, and the best part is that viewers get to come along for the incredible adventure and experience it too."
The adventure begins on Maui with a traditional blessing for Guy and his family. Then, Guy's wife, Lori, and their youngest son, Ryder, get their scuba certification so the whole family can enjoy an underwater encounter with reef sharks, sea turtles and more. They'll also get a special tour of a pineapple farm and later in the episode, they set out for some early morning deep-sea fishing with some Triple D "buddies" before ending the day with a big luau, complete with an underground pig roast.
Speaking of Triple D buddies, Fieri does end up at Mick Fleetwood's Maui restaurant, where the chef cooks up some of the drummer-turned-restaurateur's favorites.
On the Big Island, the Fieris learn about salt harvesting, abalone cultivation and surfing, followed by the aforementioned manta ray "extravaganza" (per Food Network). Then, in Oahu, the whole family cooks up a Mexican lunch for hundreds of troops at Pearl Harbor. To cap it all off, there's a surprise submarine tour for Guy's dad, a navy veteran.
The adventure begins Saturday, Aug. 28, when "Guy: Hawaiian Style" premieres on discovery .