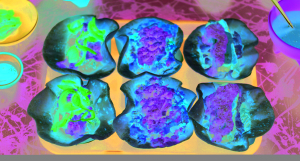 Tacos in a scene from "Street Food: USA"
From the bustling neighborhoods of Bangkok, Thailand, to the thriving cityscape of Buenos Aires, Argentina, cities around the planet all have something in common: an energetic street food scene that caters to regional tastes and packs local culture into every bite.
Netflix's "Street Food" celebrates the kind of culinary diversity that's found outside fancy restaurants and Michelin-starred venues in cities around the world. Season 1 took viewers on a whirlwind tour of Asia's incredibly diverse culinary scene, while Season 2 traveled to Latin America. Now, after a two-year pandemic-induced hiatus, the series returns to the streamer Tuesday, July 26.
This season, "Street Food" sticks closer to home, with visits to cities across the United States. It's no surprise that the Land of the Free is also a land of great food, but the sheer magnitude of regional culinary variations can be jaw-dropping. Over the course of six episodes, the show explores Californian cuisine in Los Angeles, Hawaiian food in Oahu and the vast culinary delights of Portland, Oregon. Stops in Miami and New Orleans are also on the itinerary, and no culinary tour of the States would be complete without a visit to New York City.
Each of these culinary destinations has had its street food shaped by the diasporas that have settled there. While New York City's cuisine has been molded for centuries by countless waves of people seeking new lives, Miami begs the question of what its culinary scene looks like without the influence of its Cuban communities. Similarly, where would New Orleans be without its delicious Viet-Cajun cooking?
Despite the name, "Street Food" isn't just about the food: it also honors the people behind it. Many of the eateries featured have been run by the same family for generations, while others are the passion projects of people who love their home cities as much as they do the food they sell. Cameras follow along as they tell their stories while feeding locals and visitors to the area.
You don't need to fly all the way to India or the tip of South America to find delicious and unique street foods: there's plenty of that closer to home. Netflix brings inspiration to the table when Season 3 of "Street Food" airs Tuesday, July 26.