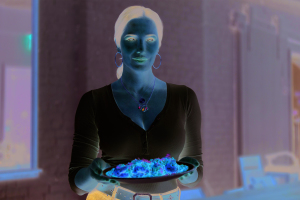 Padma Lakshmi hosts "Taste the Nation With Padma Lakshmi: Holiday Edition"
After Halloween, it's time to look forward to the holiday season and the plethora of special programming that comes with it. The purpose of all these festive food specials, themed episodes and limited series is to entertain and inform. But behind it all lies the big question: what will be on your holiday table this year?
It's an important question because food is the cornerstone of celebrations and the foundation for much of our holiday cheer. The food we share this time of year often reflects our cultural diversity and traditions, and that's the focus of a new limited season of "Taste the Nation," which begins Thursday, Nov. 4, on Hulu.
Hosted by "Top Chef's" Padma Lakshmi, "Taste the Nation: Holiday Edition" continues the series' deep dive into the food traditions of immigrant cultures across North America. Each of the four episodes brings viewers holiday food traditions viewed through the lens of the immigrant experience in various cities in the United States, from a Cuban Christmas celebration in Miami to Korean New Year in Los Angeles.
Lakshmi, who serves as both host and executive producer of the critically acclaimed series, shared Hulu's teaser on her own Twitter feed in August. Predictably, it generated a lot of buzz, and that kind of viewer reaction must have been especially rewarding for the television personality, activist and cookbook author, who has described "Taste the Nation" as a passion project.
In an interview with Bon Appétit earlier this year, Lakshmi explained: "I've been on TV for a really long time and it took me until now to get a second show that is completely mine and of my creation. It also feels good that our show was able to speak to this moment in society and to highlight food and people we don't really hear about that often but who are very much American and very much part of the fabric of our lives."
With "Taste the Nation: Holiday Edition," Lakshmi aims to bring more attention to the multitude of holiday food traditions that are inextricably woven into the nation's cultural and social fabric. The four episodes will release weekly throughout the month of November, beginning Nov. 4, and a third season of "Taste the Nation" is already in the works.