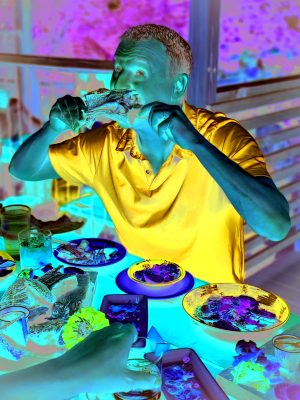 Phil Rosenthal in "Somebody Feed Phil"
Through five seasons of Netflix's "Somebody Feed Phil" — all of which are available to (re)stream on the platform — viewers have watched as a wide-eyed Phil Rosenthal gleefully explores the world's top food cities and regions with child-like wonder. His curiosity knows no bounds and his enthusiasm is infectious — so much so that his sunny sitcom ways have won over some normally tough critics.
"I'm impressed a lot," Rosenthal said in a recent interview with The Guardian. "People have even said to me: 'It looks like you love everything.' And the truth is, I do love everything, or at least everything I put in the show."
That strategy of "doing what you love" is paying off for the "Everybody Loves Raymond" creator and self-proclaimed foodie. "Somebody Feed Phil" was in the running last month for a James Beard Media Award (the award went to "Taste the Nation: Holiday Edition" in the end). While the nomination caught Rosenthal by surprise ("I was completely floored," he told Variety), he isn't new to the Oscars of the food world: the Emmy winner already picked up a James Beard Award in 2016 for his PBS show "I'll Have What Phil's Having."
Fortunately for fans, there's more "Somebody Feed Phil" on the way. Netflix renewed the series for a sixth season, and those five new episodes are already in the can, given that Seasons 5 and 6 filmed back-to-back.
"We filmed 10 episodes in the sweet spot between Delta and Omicron, remember that?" Rosenthal explained in an interview with Variety. "So from August to January, we pretty much filmed everything. We only had to postpone one location because of Omicron, but we swapped in another one in the United States for that. And we'll go back to [that other location eventually]."
Look for Season 6 of "Somebody Feed Phil" to land on Netflix this fall, along with a special tribute installment dedicated to his late parents, Max (the jokester) and Helen.
In the meantime, you can get your fix of Rosenthal's good vibes and quick wit through his weekly podcast, "Naked Lunch." If it's the food that keeps you coming back for more, a companion cookbook, "Somebody Feed Phil: The Book," is due out in October.