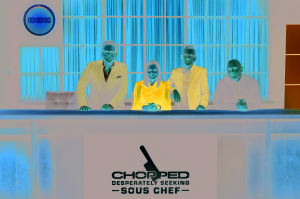 Scott Conant, Maneet Chauhan, Ted Allen and Chris Santos in "Chopped: Desperately Seeking Sous Chef"
As businesses continue to struggle with a tight labor market, employers have had to get creative with finding, hiring and retraining employees. It's a job seeker's market (depending on the industry), but the competition is still fierce — and it certainly is in the five-part tournament premiering this week.
Beginning Tuesday, May 31, "Chopped: Desperately Seeking Sous Chef" pits ambitious sous chefs against each other for a shot at a career-making opportunity.
Hosted by "Chopped's" Ted Allen, the tournament follows the usual format: each installment opens with four chefs who must race against the clock to create the best dish using the ingredients contained in each mystery basket. There are three elimination rounds in each episode (Appetizer, Entrée, Dessert), and it's up to the judges to determine who will be sent home and who will compete in the finale.
But here's where "Desperately Seeking Sous Chef" puts a new spin on things: the ultimate prize isn't a cash reward. Instead, it's a job offer from the judges to join their restaurants as a sous chef. But again, it's a job seeker's market — even in the "Chopped" kitchen, where the tournament champion will get to decide which offer they'll accept.
In order to land that job, the chefs will have to impress their future boss, either Maneet Chauhan, Scott Conant or Chris Santos, all of whom are regular judges on "Chopped." The chef's dishes must represent the best of what they can do, and under immense pressure, no less.
But since this is a job interview, the three judges (Chauhan, Conant and Santos) will also critique each contestant's cooking skills, their attitude and leadership, along with their ability to multitask. For these 16 sous chefs, this may be the toughest, most high-profile job application they'll ever experience.
Without spoiling things, here's what you can expect to see in some of those mystery baskets featured in this tournament: fish-shaped cakes, plant-based chicken, a "problematic" cut of meat, galaxy gelatin cake, a Naples specialty and a stinky fruit for dessert.
Who will land their dream job? Tune in to "Chopped: Desperately Seeking Sous Chef" beginning this Tuesday, May 31, on Food Network.