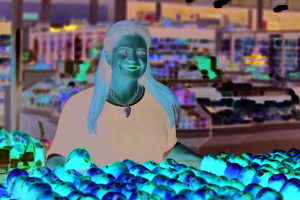 Alex Guarnaschelli hosts "Supermarket Stakeout"
You've just spent an hour shopping for groceries, and as you leave the store, a stranger offers you cash for whatever is in your bags. Would you sell them your food?
Hosted by Food Network favorite Alex Guarnaschelli, "Supermarket Stakeout" returns this Tuesday, May 17, for a fourth season. And while fans enjoy this show for its fast-paced cooking battles, it's the grocery store ambushes that set the competition apart.
Unlike other grocery-themed battles, such as "Guy's Grocery Games" and "Supermarket Sweep," "Supermarket Stakeout" takes place in an actual supermarket — or rather, just outside its doors, where a pop-up kitchen is set up in the store's parking lot.
In case you need a refresher on how the show works (it's been over a year since the last season wrapped), each one-hour episode features three rounds, and each competitor is given $500 to use throughout those rounds.
In the first heat, the chefs are tasked with creating a themed meal for the judges — but first, they must walk up to people exiting the store and attempt to buy their bags without even seeing their contents. While the creator of the least successful dish is sent home, the three remaining chefs move on to the second heat, in which they'll have to ambush shoppers once more.
In the final round, the two finalists have the luxury of being more selective with their choices by examining the groceries from as many shoppers as they like, but they can only buy a total of five items. The winning chef gets a year's worth of groceries.
Guarnaschelli has been a fixture on Food Network since her first appearance in 2006, and even if viewers haven't sampled her dishes in person, they've still come to trust both her palate and her culinary skills through her many appearances on "Chopped" as a judge and as a co-host on "The Kitchen."
She's no stranger to competitions herself, either, having battled it out in "Iron Chef America" and "Alex vs America," the latter of which has been renewed for a second season. She also brings her experience and knowledge to companion show "Supermarket Stakeout: What Would Alex Make?," which also returns Tuesday, May 31, as Guarnaschelli tries her hand at challenges from prior episodes of "Supermarket Stakeout."