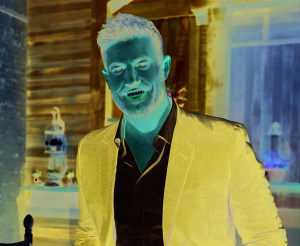 Jesse Palmer, host of "Holiday Baking Championship"
The countdown to Thanksgiving is on, and 'tis definitely the season for themed programming on Food Network and discovery .
All month long, festive episodes and seasonal shows have been inspiring home cooks and bakers of all ages. That trend continues this week when "Holiday Baking Championship" switches its focus to ... turkey?
Seizing the idea that today's holiday turkeys can be "smoked, fried, brined, roasted and bacon-wrapped," host Jesse Palmer introduces a Preheat challenge inspired by the five-way turkey in a new Thanksgiving episode of "Holiday Baking Championship," airing Monday, Nov. 21 (and repeating throughout the week).
Later on in the episode, the competitors are divided into teams and challenged to create pies that will take judges Nancy Fuller, Duff Goldman and Carla Hall on "a flavor progression journey, just like a flight of bourbon," according to Food Network.
Turkey and pie (a most precious Thanksgiving pairing in the minds of many) is a unique combo for a baking competition, but the Nov. 21 episode of "Holiday Baking Championship: Gingerbread Showdown" opts for a far more cookie-friendly theme.
The mood for that new installment is more full of lore than thanks, as host Carla Hall challenges the baking teams to portray the epic battle between Santa Claus and Jack Frost in gingerbread form. They'll also be asked to incorporate a sweet and salty dessert that reflects the characters' status as frenemies.
Most of Food Network's lineup this week aims to fill you with the spirit of Thanksgiving, in food form at least, through special-themed episodes of regular series, such as "Chopped" and "Guy's Grocery Games."
After Thursday, however, expect Food Network (and discovery ) to double down on Christmas desserts and treats — like the ones featured in "Kids Baking Championship: All-Star Holiday Homecoming," premiering Monday, Nov. 28. For the first time ever, four previous champions have been invited back into the "Kids Baking Championship" kitchen, where hosts/judges Duff Goldman and Valerie Bertinelli challenge them to create decked-out Yule logs for a shot at a $10,000 prize package.
It all amounts to a holiday extravaganza on Food Network and discovery , as we inch ever closer to Turkey Day. Happy Thanksgiving!