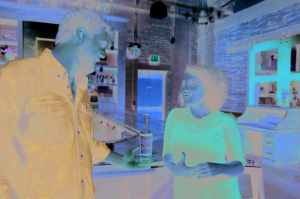 Andy Nelson and Caroline Randall Williams in "Hungry for Answers"
There's a story behind every food or drink, but some stories are better documented than others — and more than a few have been lost to history.
Often overlooked in discussions of American cuisine are the Indigenous and Black ingredients and traditions that helped form the foundations of what we eat today, and there's been a growing movement to reclaim some of that history while raising awareness about the socio-historical context behind foods linked to identity. And that's precisely what a new, four-episode docuseries sets out to do this week.
Launching Wednesday, June 8, on discovery , "Hungry for Answers" follows cookbook author, restaurateur and award-winning writer Caroline Randall Williams as she travels across America "uncovering the fascinating, essential and often untold Black stories behind some of America's classic and emblematic food and spirits" (per Warner Bros. Discovery).
Co-executive produced by actress Viola Davis ("How to Get Away with Murder") via her JuVee Productions company, the series opens with the question, "Who gets to cook Black food?" In her quest for answers (hence the series title), Williams takes a closer look at the rich history of Nashville Hot Chicken, a now-famous dish with origins that can be traced back to one particular family.
In another episode, Williams explores the "less than sweet history of sugar" in a journey that takes her from Sugarland, Texas, to Philadelphia. Additional episodes include a deep dive into the Tennessee whiskey tradition with Andy Nelson of Nelson's Green Brier Distillery, the history of Jack Daniels and the first known African-American master distiller, Nathan "Nearest" Green.
Inequity, along with a lack of recognition (and reward) for the true originators, is a common theme throughout these stories. That's not an easy subject to broach in a show that has been described by its host as a "wild, spicy, complicated and delicious adventure."
Courtney White, outgoing president of Food Network and streaming food content at Discovery, Inc., acknowledged "Hungry for Answers" is "groundbreaking in its pursuit of difficult conversations surrounding origins of food," and applauded Williams' "bold and forthright mission to explore the complicated backstory of popular dishes."
All four episodes of "Hungry for Answers" land on discovery Wednesday, June 8.