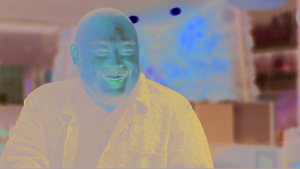 Chef David Chang from "The Next Thing You Eat"
Amid the chaos of COVID-19, restaurants, food manufacturers and retailers found themselves having to adjust and adapt in order to weather the crisis. Questions still remain about the pandemic's long-term impact on the food industry, but there's no denying that food itself is changing -- and that's the focus of the new food docuseries "The Next Thing You Eat," premiering this Thursday, Oct. 21, on Hulu.
The six-episode series hails from the creative duo behind Netflix's "Ugly Delicious" -- acclaimed chef David Chang and acclaimed documentary maker Morgan Neville -- and anticipation has been building since the project officially received a straight-to-series order last summer.
"The Next Thing You Eat" explores the "seismic changes happening all around us and how they affect not only the restaurant world but people's fundamental relationship to food," per the official logline.
Chang is the recognizable face of the series, but he'll be helped by a diverse cast of correspondents who have been tasked with exploring the challenges and opportunities ahead, "including how our food is grown, who cooks it, how we pay for it, and whether or not deliciousness will fall by the wayside."
Lab-grown fish and even insect farms are among the different concepts that are explored in "The Next Thing You Eat," which also highlights how technology is playing an increasingly bigger role in sustainability-- from a robot workforce to app-based reservations and online ordering.
This is the newest addition to the growing list of TV series produced by Chang — a list that includes the Netflix original "Breakfast, Lunch and Dinner" —but this particular project holds the distinction of being one of the first shows to come out of the team-up between Chang's Majordomo Media and Vox Media Studios as part of a multi-year deal to develop new food-driven programming for Hulu.
In a news release announcing the partnership in 2019, Chang laid out his vision: "I'm hoping we can keep integrating new perspectives into the conversation, telling compelling stories about our culture and trying to change people's ideas of what food television can and should do," Chang said. "I think there's an audience out there that understands and celebrates the world through food, and they're hungry for shows that feed their sense of curiosity in new ways."
Fast-forward to 2021, and the concepts explored in the "The Next Thing You Eat" should give viewers plenty of food for thought (pardon the pun).
The series is available for streaming beginning Thursday, Oct. 21.