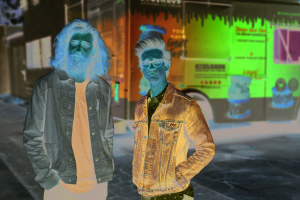 Rhett McLaughlin and Link Neal from "Inside Eats With Rhett & Link"
They say you should never go into business with friends, but things seem to be working out just fine for Rhett McLaughlin and Link Neal.
The lifelong friends are the creative duo behind Mythical, a digital comedy studio, and "Good Mythical Morning," a wildly popular daily YouTube variety series that started 10 years ago. Impressively, the online content they've created over the years has drawn more than 75 million subscribers across different channels — the "GMM" channel alone has 17.5 million subscribers — and now, the YouTube stars are branching out into traditional media after partnering with Discovery Inc.
"Inside Eats with Rhett & Link" premieres Sunday, April 24, on Food Network and on discovery , and spans four 30-minute episodes that will stream weekly. The series follows McLaughlin and Neal as they step behind closed doors and into the secret test kitchens and research centers of some of our favorite food brands.
In one episode, McLaughlin and Neal visit the Chipotle Mexican Grill campus in Irvine, California, where they make fresh guacamole while learning how recipes are created from Chipotle's selection of ingredients. In another episode, they visit Coolhaus Ice Cream's flagship scoop shop in Culver City (also in California), where they push ice cream flavor to its limits. Other stops include The Cheesecake Factory headquarters and Beyond Meat's labs and innovation kitchen.
"Rhett and Link have captivated audiences for years with their humor, insatiable curiosity and commitment to answering life's burning questions, like 'What's the best pickle-flavored snack?' and 'Where in the world did this bacon dish come from?','' Courtney White, president of Food Network and streaming food content for Discovery, said in a statement. "We are thrilled to have them bring their chemistry and creative gusto to Food Network and discovery as we introduce them to our audience and offer up an exciting new project for their millions of fans."
McLaughlin and Neal added: "We've spent over a decade tasting, rating and ranking everything from the world's most expensive desserts to 40-year-old ham and eggs. Thankfully, we survived and got a TV show. We're ready to unleash our well-trained tongues on America's favorite food brands."
"Inside Eats with Rhett & Link" airs/streams weekly beginning April 24 on Food Network and discovery .