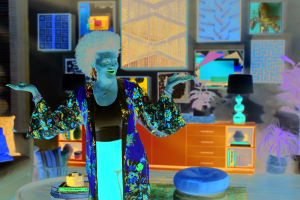 Tabitha Brown hosts "It's CompliPlated"
From food allergies to dietary restrictions and even personal preferences, today's chefs are finding it increasingly hard to come up with just one meal option that will delight every person seated at the table. But that's precisely what they need to do in the latest Food Network competition show.
Premiering Thursday, Aug. 11, on the cable channel and discovery , "It's CompliPlated" is a new six-episode series that tasks chefs with creating delicious dishes that are universally satisfying and allergy safe.
In each episode, four chefs compete in three rounds of challenges that vary from creating plant-based Southern comfort foods to prepping an Instagram-worthy dinner party with no trace of fruits or vegetables whatsoever.
"'It's CompliPlated' reflects what it's actually like to make a meal the whole family will love — it's not easy to make one dish for everyone and this series makes it fun," said Jane Latman, president of home and food content and streaming for Warner Bros. Discovery.
The show is hosted by actress, social media personality and New York Times bestselling author Tabitha Brown ("All Love With Tabitha Brown"), who is known for her vegan food reviews and inspirational messages. Expect Brown to bring her vegan preferences and sensibilities to the competition — dietary preferences she shares with the nearly 10 million Americans now following plant-based diets.
"Becoming vegan changed my life and the way I cook — and I know folks can relate to the daily challenge of making the whole family happy with one meal, so we decided to make a game of it," Brown said in a statement. "These chefs cook from the heart and their food is mind-blowing — viewers are sure to have a blast and be inspired for their next family dinner."
But "It's CompliPlated" isn't just about making tricky substitutions. Competitors also need to cater to picky eaters, and Maneet Chauhan ("Chopped") will be mindful of common food aversions and fussy palates as she selects the winner of each cooking battle with the help of a rotating panel of guest judges.
Don't miss "It's CompliPlated" when it premieres Thursday, Aug. 11, on Food Network and discovery .