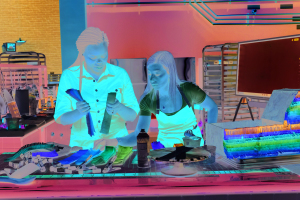 Shanice and Vanessa from Season 1 of "Baking Impossible"
From "Cake Wars" to "Holiday Baking Championship" and even "Buddy vs. Duff," viewers have been treated to some incredible sculptural cake displays that seem to defy the laws of physics. Now, Netflix's newest baking show wants to push the boundaries even further, and to do so, it has enlisted the help of some non-bakers who are used to applying the principles of science to structural designs.
You might have already caught a glimpse of "Baking Impossible" while surfing through the Netflix library. The first six episodes debuted on the streamer on Wednesday, Oct. 6, but another batch of episodes is set to drop this Wednesday, Oct. 13.
Part baking show, part building challenge, "Baking Impossible" features nine competing teams of two that consist of a baker and an engineer (henceforth known as a "Bakineer"). In each challenge, these unlikely duos compete to create extraordinary cakes resembling edible boats, skyscrapers and miniature golf courses. (And no, they can't just layer on a bunch of icing on a structure and call it a day -- each cake has to be delicious, too.)
Here's where it gets interesting: like an armchair made by a famous Swedish retailer, all those creations will have to be able to withstand an engineering stress test. Take, for example, the aforementioned skyscraper: it would have to be structurally sound enough to survive an earthquake.
The judging panel consists of Andrew Smyth, an engineer and finalist on "The Great British Baking Show"; Joanne Chang, a James Beard Award-winning pastry chef; and Hakeem Oluseyi, an aerospace engineer. They're the ones who'll critique each creation based on appearance, ingenuity and flavor, and the winners will get to take home a $100,000 grand prize.
"Baking Impossible" is hosted by Justin Willman, and given the nature of the gravity-defying creations featured in the show, it seems fitting to have a magician serve as the MC. Willman is also a comedian and the star/creator of the Netflix series "Magic for Humans," though if you're a fan of cake shows, you probably know him as the host of the Food Network shows "Cupcake Wars," "Cupcake Champions" and "Halloween Wars."
It's a cake competition like fans have never seen before! The complete season of "Baking Impossible" is available to stream on Netflix beginning Wednesday, Oct. 13.