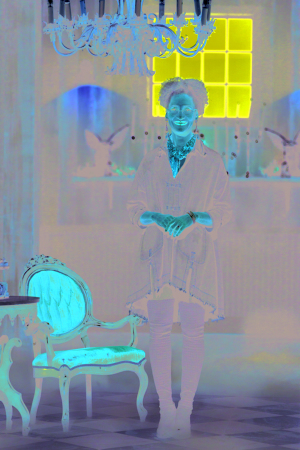 Carla Hall, judge in "Halloween Baking Championship"
It's that time of year -- a time when you don't know whether to enjoy the beginning of fall or skip ahead to the candy extravaganza that is Halloween -- and Food Network isn't making it any easier by rolling out some big Halloween-themed programming this week.
A popular staple this time of year, "Halloween Baking Championship" is back for a seventh spooktacular season beginning Monday, Sept. 13, and the seasonal competition show is apparently turning the fear factor up a notch.
Remember how last season's contestants had to bake their way through a haunted house? Well, this season the weekly challenges pay tribute to classic 1980s slasher movies -- think "Friday the 13th" (1980) and "Nightmare on Elm Street" (1984) -- and that should make for some pretty interesting costumes worn by the host and judges each week.
Comedian John Henson ("My Name is Earl") is back to host this season after missing Season 6, which saw Carla Hall ("Top Chef") -- a fixture since "Halloween Baking Championship" debuted in 2015 -- lead the show as both judge and host. Henson is a viewer favorite, but Hall is still a big part of Season 7, back as a judge, alongside pastry chefs Stephanie Boswell ("Christmas Cookie Challenge") and Zac Young ("Unique Sweets"). They'll be the ones determining the winner of the $25,000 grand prize and the title of "Halloween Baking Champion."
In the first episode, the initial group of 10 contestants will be introduced to viewers, to Henson and to the judges. The competition begins with a trip to "Camp Devil's Food Lake," where they'll have to bake up some "cereal killer" pies and mega cakes that will impress the judges if they want to survive … the elimination round, that is (it's a Food Network/family-friendly show, after all). The remaining contestants will continue to the next round and the Sept. 20 episode, which involves "creepy cookies and a mother of a blind cake bake" (per Food Network).
Don't miss the season premiere of "Halloween Baking Championship," airing Sept. 13 on Food Network and discovery , and head over to FoodNetwork.com to find some of the recipes featured on the show.