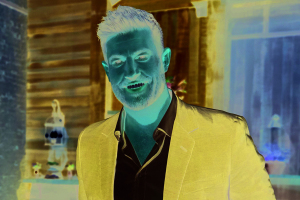 Jesse Palmer hosts "Holiday Baking Championship: Gingerbread Showdown"
Cookie or architecture? Who says gingerbread can't be both!
This week, the sweetly spiced star of your holiday baking/centerpiece-building plans will get its moment to shine, courtesy of a new Food Network competition series that is a bit of a hybrid itself.
Premiering Monday, Nov. 15, on Food Network and discovery , "Holiday Baking Championship: Gingerbread Showdown" is a spinoff that's equal parts "Holiday Baking Championship" and "Holiday Gingerbread Showdown," which last aired in 2019.
The five-episode "Holiday Baking Championship: Gingerbread Showdown" will feature three teams of festive-minded gingerbread artists competing against each other to produce the most breathtaking gingerbread showpieces.
The format is a little more "Gingerbread Showdown" than "Baking Championship," meaning each one-hour episode is a stand-alone competition -- there's no weekly elimination, which makes it an ideal pick if you're looking for something light to watch as we head into the busy holiday season.
This new seasonal competition is hosted by former NFL quarterback and "Bachelor" Jesse Palmer.
The Canadian TV personality and sports commentator has had a busy year: he's also hosting this year's installment of the less gingerbread-centric parent series "Holiday Baking Championship," and he's returning to "The Bachelor" franchise, too, as host of Season 26, premiering in January.
As for the judges, chefs Nacho Aguirre and Kardea Brown join Breegan Jane from HGTV's "Extreme Makeover: Home Edition" to evaluate each team's performance and decide on a winner in each episode, beginning with the premiere on Nov. 15.
Incidentally, Brown recently signed a deal that extends her partnership with Food Network for two more years, and production on Season 6 of "Delicious Miss Brown" began earlier this fall (look for it to premiere in 2022).
That's not all: Brown is also hosting a different food competition series that premieres this Saturday, Nov. 20, on discovery and Oprah Winfrey Network (OWN). "Great Soul Food Cook-Off" is a six-episode, elimination-style competition celebrating Black chefs and Black culinary traditions in America.
It's a long-overdue, first-of-its-kind celebration of soul food, and with Brown at the helm as the show's host, it should be a good watch. In the meantime, check out the "Holiday Baking Championship: Gingerbread Showdown" premiere on Monday, Nov. 15.