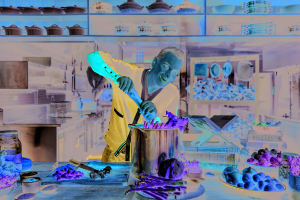 Sebastian Maniscalco hosts "Well Done with Sebastian Maniscalco"
Actor and stand-up comedian Sebastian Maniscalco ("The Irishman," 2019) is passionate about comedy and food, and now he's got a new discovery series that allows him to combine the two.
"Well Done With Sebastian Maniscalco" lands on the streamer on Thursday, Aug. 12, with three episodes to give viewers a solid first impression. The remaining four will be posted weekly.
In each episode, Maniscalco is joined by friends and/or family as he dives into various food-centric topics that pertain to culture and etiquette, essentially explaining how and what we like to eat.
Some of those friends are famous (and many are famously funny). Throughout this culinary journey, Maniscalco ponders the similarities between sushi and comedy with fellow stand-up comedian Russell Peters ("The Indian Detective"), he experiences sea sickness during a fishing outing, throws a dinner party for guests/fellow comedians Bert Kreischer ("Something's Burning") and Anjelah Johnson ("Enough Said," 2013), and samples sandwiches with NFL Network's Rich Eisen, Fortune Feimster ("The Mindy Project"), Gillian Jacobs ("Community") and Oscar Nuñez ("The Office").
"This series came out of my passion for cooking and comedy. I thought … what better way to marry the two than a TV show centered around the culinary arts?" Maniscalco said in the official news release. "Filming it was so exciting! I loved all the guests that we had, and I think we provide some really good information about food as well as some fantastic comedic moments."
Meanwhile, Food Network and Cooking Channel President Courtney White had this to say about the show: "This is one of the funniest shows we've ever done — Sebastian is an inimitable talent and his signature sense of humor sets the tone for every episode. He has a lot of thoughts, questions and opinions about food, and joining him to hilariously analyze the culinary world is a must-see."
One of the top touring comics in the business — the New York Times even called him "the hottest comic in America" — Maniscalco's interests go beyond observational comedy. He released a memoir in 2018 and landed roles in two Oscar-nominated movies: Best Picture winner "Green Book" (2018) and Martin Scorsese's "The Irishman" (2019).
And while the pandemic forced him to take a break from touring in 2020, all that time spent in lockdown with his family has provided him with new material for his Nobody Does This tour, which kicked off in June and continues into early 2022. In the meantime, fans can check out "Well Done With Sebastian Maniscalco" when it premieres Thursday, Aug. 12 on discovery .