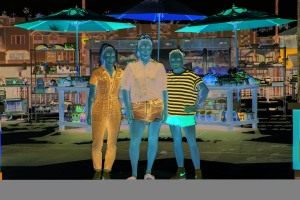 Brooke Williamson, Antonia Lofaso and Tiffani Faison in "Beachside Brawl"
East or west — when it comes to summer foods, which coast does it best?
While this isn't quite as divisive as asking which regional barbecue style is best, it's still the big question that hangs over the new Food Network competition, "Beachside Brawl," which launches this week.
Premiering Sunday, June 19, the six-week competition challenges top cooks from both coasts to prove which region boasts the best beach bites.
Competitors will be split into teams of four cooks, with the East Coast team led by frequent "Chopped" judge Tiffani Faison and the West Coast team led by "Top Chef" personality and chef Brooke Williamson. Throughout the competition, though, the two team captains won't just be acting as mentors — they'll often be cooking alongside their teams as well.
While Team East Coast consists of Jared Brown (Long Branch, New Jersey), Edward Lordman (Pensacola, Florida), Ben Porter (Cape Cod, Massachusetts) and Jada Vidal (Tampa Bay, Florida), Team West Coast features Kaleena Bliss (Seattle), Brian Madayag (Edmonds, Washington), Joshua Mouzakes (San Diego) and Jessica Roy (Newport Beach, California).
Former "Top Chef" cheftestant Antonia Lofaso, whose growing TV resume includes "Selena Chef" and "Guy's Grocery Games," is the series' (impartial) host throughout its six-week run.
"With my strong connection to both coasts — being born on the east and growing up on the west — I'm so thrilled to oversee this competition as my two talented friends, Tiffani Faison and Brooke Williamson, brawl on the beach to prove their coast is best," Lofaso said in an official statement.
In Sunday's premiere, Lofaso challenges the teams to create a menu of boardwalk bites that best represent their coast. The items must include something served on a stick and a fried item, as well as "something in a bun, something cheesy and something sweet." At the end of the episode, guest judge Noah Cappe ("Carnival Eats") will declare a winner and send one of the chefs home.
Which region will win? And which chef will ultimately be crowned "Best of the Beach" and the winner of a dream beach getaway? Follow all the weekly action as "Beachside Brawl" begins Sunday, June 19, on Food Network.